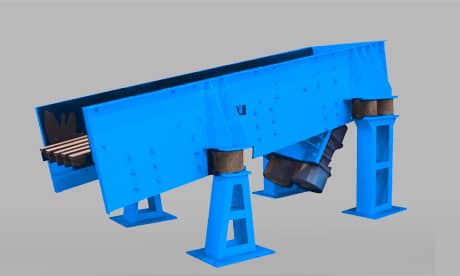 GZD Series Vibrating Feeder
Max. Feed Size: 400-600 (mm)
Processing Capacity: 120-200 (t/h)
Overall Dimension: 2996 x 1750 x 1651 - 4347 x 2150 x 2182
Application Fields: construction, metallurgy, coal mine, chemical industry.
GZD Series Vibrating Feeders are mainly used to continuously and evenly feed large-block materials to primary crusher, meanwhile having the function of pre-screening the materials.
1. The vibrating motor working as the vibration source ensures the great impact of large-block materials and greatly lifts the feeding capacity.
2. Simple structure, even vibration and feeding, good continuity and easy maintenance.
3. It realizes the purpose of pre-screening through clearing the mud and fine materials by the rods or sieve plate while feeding.
4. Low noise and energy consumption, easy maintenance.
Model

Max. Feed Size

(mm)

Rotating Speed

(r/min)

Throughput

(t/h)

Power

(kW)

Dimension

(mm)

GZD95×300

400

980

~120

3.7×2

2996×1750×1651

GZD100×300

400

980

~150

5.5×2

2996×1800×1751

GZD100×360

500

980

~150

5.5×2

3745×1950×1919

GZD120×360

500

740

~180

6.5×2

3745×2150×2101

GZD120×420

600

740

~200

6.5×2

4347×2150×2182
SPARE PART CENTER
Screen Bar

Spring

Tooth Wheel

REQUEST FOR QUOTATION
If you have any suggestions and opinions about our products, please leave a message and we will immediately answer your questions. Thanks for the support.
LUOYANG DAHUA
Heavy Industry Science & Technology Co., Ltd.
Add.: No.280, Guanlin Road, Luoyang, Henan, China
Tel.: +86-379-62669977
+86-379-62669978
(International Trade Department)
E-mail: overseas@huazn.com