GPY Single Cylinder Hydraulic Cone Crusher - Star Product at bauma China 2018
author:dahua time:2018-11-20
GPY single cylinder hydraulic cone crusher manufactured by Luoyang Dahua is a star product which will be displayed at bauma China 2018. The cone crusher is one kind of high-class product combined with mechanical technology, electrical technology, hydraulic technology and advanced crushing technology. Why we call it star product? Let me tell you more about it.
1. High Productivity Combined with optimal crushing chamber, reasonable eccentricity, optimal swing frequency and laminating crushing principle, the machine has a large throughput capacity, high productivity, good products shape and low energy consumption.
2. Automation Automation control system can achieve the overloading protection, iron-passing protection, and function of constant-chamber without effect of liner-wearing, can also constantly monitor these conditions such as oil temperature, oil flow, oil pressure motor load and discharge opening size, etc., which ensure the machine work stably.
3. High loading Capacity Optimization design of strong frame construction, two-ends structure (simple support beam) main shaft, unique hydrodynamic lubrication design of copper bush, smart and reliable overload protection system, which ensure the machine have long-term and stable working under extremely bad conditions such as hard rock crushing.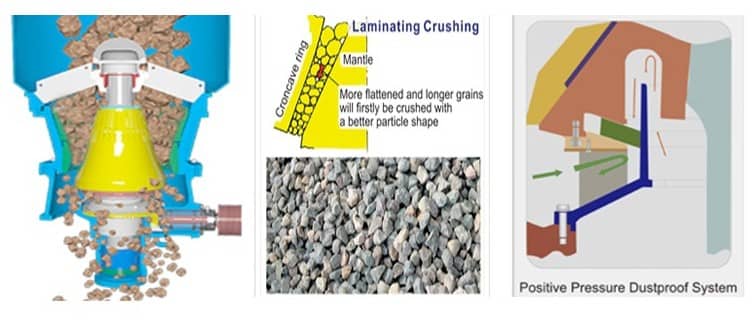 4. Wide Applicability There are two types of the cone crusher: standard type and short head type. There are several of chambers can be chosen for each type. Different chambers can be changed by ECC. The adjusting of products' classifying can be achieved by adjusting the driving shaft speed to maximize the equipment's value.
5. Low Running Noise and Low Vibration The driving structure of high precision arc-shape spiral gear has advantages of low running noise, high driving ratio and long durability. Low vibration itself and flexibility supporting of the steel structure ensure minimum vibration (which is caused by transmission from machine to foundation) and low foundation cost.
6. Low Installation Cost GPY200(s) and GPY300(s) cone crusher's advanced compound cup-type piston design has advantage of low installation height and the integral steel base frame ensure easy installation, short time-cost and minimum installation cost.
Luoyang Dahua devotes to provide high quality crushing and grinding equipment, full set of solution for crushing production line in the fields of mining, construction, water conservancy and hydropower and chemical industry. Welcome you come to our stand: E6-550.