Application Requirements and Process Flow of Sand and Gravel Crushing Materials applied to Expressways
author:dahua1 time:2019-08-20
The establishment of a production line generally consists of a variety of equipment, generally consisting of feeding equipment, crushing equipment, screening equipment, sand making equipment, transportation equipment, sand washing equipment and other necessary equipment. Luoyang Dahua Heavy Industry Science and Technology CO.,LTD crushing equipment is mainly jaw crusher, impact crusher, cone crusher, hammer crusher, screening equipment adopts high-efficiency circular vibrating screen; feeding equipment adopts vibrating feeder; conveying equipment adopts belt type Conveyor; sand crusher professional crushing and shaping equipment, sand washing equipment using spiral classifier and washing machine bucket wheel sand washing machine. At present, the production line must be equipped with dust removal equipment according to environmental protection requirements. High-quality production requirements, recycling of production water, automatic nozzle cleaning device to ensure the cleanliness of materials and reduce dust pollution.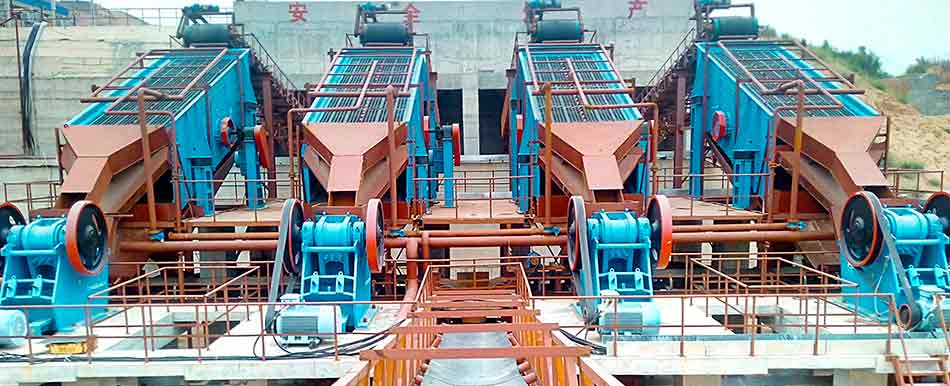 Highway sandstone production line process:
1. A section of crusher: the stone used on the highway generally has granite, turquoise, pebbles, river pebbles and so on. These stone materials are relatively hard and difficult to break. Dahua Heavy Industry's jaw crusher and cone crusher are better choices. The jaw crusher is mainly used for coarse crushing of large materials, and the cone crusher is crushed in two stages.
2. Sand making and sand washing: After; after crushing, the material is transported to the sand making machine through the belt conveyor. After the crushing and shaping of the sand making machine, the qualified stone material enters the finished product area through the belt conveyor and enters the finished product area. Unqualified stone materials once again, enter the crusher for crushing to form a closed loop to ensure the quality specifications of the stone.
3. Material screening: The particle size and shape of the stone are the effects of the final stone. The stone used on the expressway should meet the on-site application. The round stone material is the primary choice for road construction. After the stone material is broken, it is sieved. The qualified materials are first sieved to reach the qualified area, and the unqualified materials are crushed again by the crusher and sieved to achieve a satisfactory particle size. All stone materials meet the requirements of highway stone.
The advantages of stone play a vital role in the quality of highway pavement. Stone quality failure has become one of the important reasons for pavement disease. To solve the problem of stone quality, we must start from the aspects of stone production equipment, management, and use. Highway construction is also a fulcrum of social and economic development. Doing a good road construction is a favorable weapon for realizing social development.