Beijing Sijiqing Construction Waste Resource Disposal Project, Dahua Small Module Construction Waste Treatment Equipment shows Its Talent
author:dahua time:2019-09-11
Project introduction: Beijing Sijiqing construction waste treatment site covers an area of 50 acres. Luoyang Dahua designed a small modular construction waste treatment production line according to the site conditions. "Small module" is actually a smaller version of the processing production line, simple equipment, small area, flexibly transferred and dismantled. Through screening, crushing and sorting technologies, the construction waste can be processed into three kinds of aggregates: 0-10mm, 10-20mm and >20mm. The finished products can be respectively used for manufacturing regeneration brick, sponge brick, paving material and site backfill, etc., realizing the recycling of construction waste.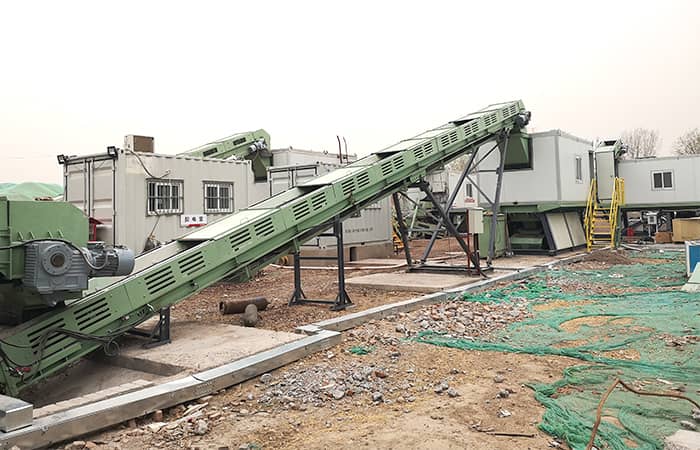 Construction waste treatment production line technology: generally, large pieces of construction waste need to be broken into three levels, but the particle size should not exceed half a meter. After the first crushing, reductive soil is first separated; Then after the "iron removal" adsorption, steel bars, iron from the first crushed materials are adsorbed; Workers have to sort out the non-breakable materials as wood slats, plastic bottles, and fabrics by hand. In the secondary and tertiary crushing, the construction waste entering into the crusher and the aggregate sifted out become finer.
Features of Dahua small module construction waste treatment production line: simple equipment, small floor area, flexible transfer with site requirements, easy to dismantle.
Compared with fixed construction waste treatment production line, semi-mobile crushing station is easy to be removed and can be transferred with the change of construction waste treatment quantity. That is to say, where have demolition, the construction waste collected, where you can set up. After the disposal of the construction waste in that area, it can be removed and transferred to the needed place for installation. Convenient and flexible, saving installation time and low cost.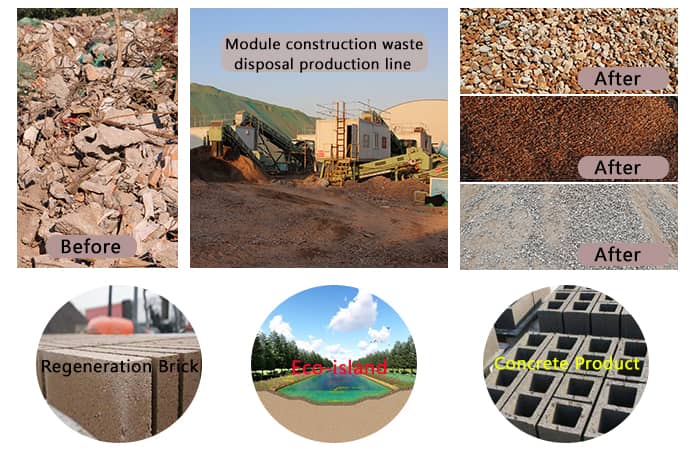 What can be done after the disposal of construction waste?
In recent years, as a new industry, construction waste resource treatment is rising rapidly, and it is fully implemented with the development of national urbanization. The treated construction waste can be used to make regeneration bricks, such as road tiles, permeable bricks, porous bricks, etc., to build sponge cities, ecological islands, recycled road materials, pipe corridor backfilling and site backfilling.