Dolomite Crusher Machine and Crushing Process
author:dahua time:2021-06-17
Dolomite can be widely used in building materials, ceramics, glass and refractory materials, chemical industry and agriculture, environmental protection, energy saving and other fields. What crusher machine can be used for the crushing of dolomite?
Dolomite crusher machine hammer crusher
Hammer crusher has the characteristics of stable performance, large crushing ratio and less stone powder in the production process. On the basis of absorbing internal and external technology, Luoyang Dahua has elaborately designed a new crushing machine hammer crusher which can directly crush the material with the particle size of 600mm-1200mm to 25 or less than 25mm. Hammer crusher can break the materials with the crushing compressive strength is no more than 200 Mpa and the calcium content is higher than 40% of all kinds of medium hardness and brittle materials, such as limestone, dolomite, salt, gypsum, alum, brick, tile, coal gangue and so on.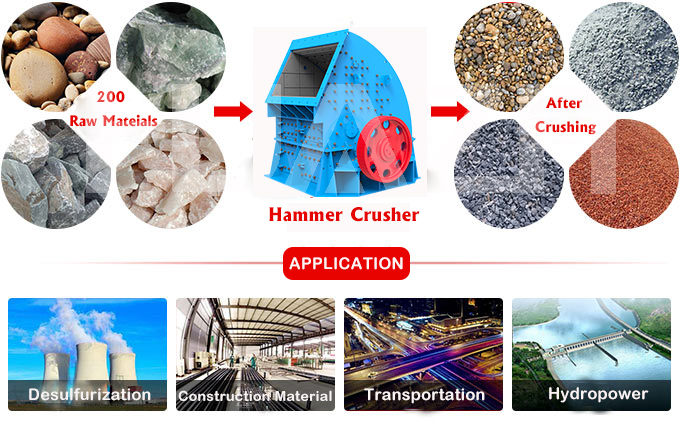 Detailed explanation of dolomite crushing process
Dolomite is generally divided into coarse crushing, grinding two stages, according to the requirements of the material can be out of aggregate and dolomite powder.
Coarse crushing
In the coarse crushing section, the dolomite raw material is transported to the hammer crusher by the feeder for coarse crushing, the large stone is broken into relatively small particles, and then screened by the vibrating screen, and the qualified aggregate is transported out, the unqualified material is returned to the hammer crusher for reprocessing. If grinding is needed, part of the material will be sent to the grinding machine for processing.
Grinding stage
In the grinding section, the broken dolomite pieces are sent to the silo by the elevator, and then sent to the grinding mill by the vibrating feeder for grinding evenly and quantitatively.
Grading stage
In the grading section, the material after grinding is graded by the sorting machine, and the unqualified powder is graded by the sorting machine and returned to the main machine for re-grinding.
Luoyang Dahua has rich experience in mining industry, providing tens of thousands of crusher equipment to the customer, please contact us online service or send email to lydhchina@huazn.com to get latest quotation.