Fault and troubleshooting Method of Jaw Crusher (1)
author:dahua1 time:2018-11-28
Fault phenomenon 1: The host suddenly stops (commonly known as boring car)
The reason:
1) The discharge port is blocked, causing the full cavity to block the material;
2) The V-belt that drives the groove wheel is loose, causing the belt to slip;
3) The eccentric shaft tightening bushing is loose, causing no gap on both sides of the bearing housing of the frame, so that the eccentric shaft is stuck and cannot be rotated;
4) The voltage of the site is too low; the host will not break after encountering the large material;
5) the bearing is damaged.
Method of exclusion:
1) Clear the discharge blockage to ensure unimpeded discharge;
2) Tighten or replace the V-belt;
3) Reinstall or replace the adapter bushing;
4) Adjust the voltage of the site to meet the requirements of the host voltage;
5) Replace the bearing.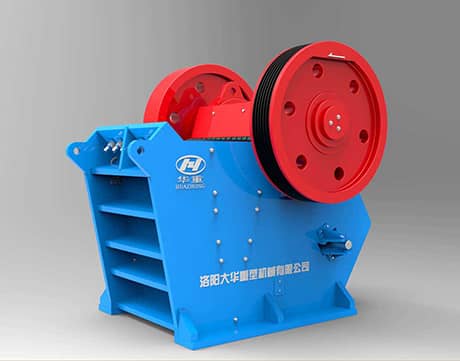 Failure phenomenon 2: The grooved wheel and movable jaw of the main engine operate normally, but the crushing stops
The reason:
1) The tension spring breaks;
2) The tie rod breaks;
3) The bracket is detached or broken.
Method of exclusion:
1) Replace the tension spring;
2) Replace the tie rod;
3) Reinstall or replace the bracket.
If you want for more information, please contact us: https://www.lydhcrusher.com/product/JC-Series-Jaw-Crusher.html