Granite Cone Crusher
author:dahua time:2019-10-31
Granite is a very hard, granular, crystalline, igneous rock consisting mainly of quartz, mica, and feldspar and often used as a building stone. Granite crushing production line is to break large block of granite with different shape into small particles or processed into sand to meet the needs of construction, railway, water conservancy dam and other projects.
Granite crushing production line usually adopts two-stage or three-stage crushing process. The main crushing equipments are jaw crusher, cone crusher, sand making machine. If the customer needs high grade stone and sand, can add sand washer to clean them.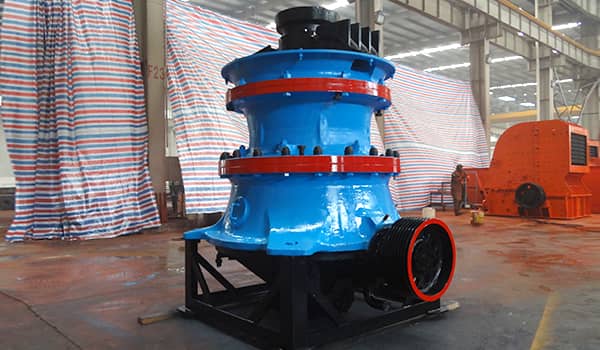 After years of painstaking research, Luoyang Dahua has developed a kind of cone crusher specially for granite crushing, namely granite cone crusher. This cone crusher uses high strength cast steel frame, alloy forging spindle, high precision straight bevel gear drive structure, combined with the operation system of multi cavity selection and automation control system, embodying the full performance and advantages. It can be widely used for the medium and fine crushing of all kinds of solid mineral and rock, its higher crushing efficiency, lower production cost, better finished products can fully meet the needs of customers for various crushing.
Working principle of granite cone crusher
When the crusher works, electric motor drives the belt pulley, transmission shaft and cone part taking pendular movement under the force of eccentric bushing, which makes the mantle sometimes close to the concave ring, sometimes far from it. The ores receive the impacting force in the crushing cavity to be crushed, and then are discharged from the bottom of the machine.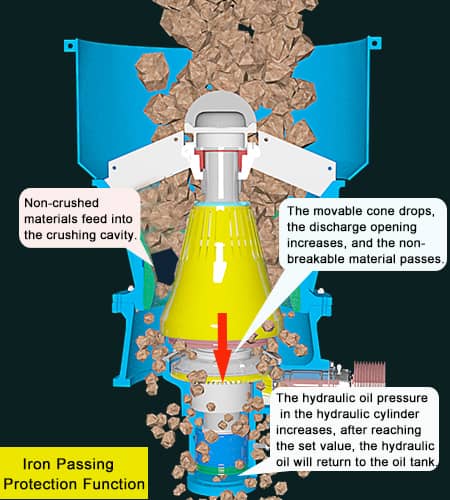 Granite cone crusher advantages
I. High degree of automation
The automatic system of granite cone crusher can realize overload protection, over-iron protection, liner wear compensation function in crushing process, and can realize real-time monitoring of oil temperature, lubricating oil flow, crushing pressure, main engine load, material port size and other conditions.
II. Humanized design
1. Special crushing cavity type
The specially designed crushing chamber can realize the laminating crushing, and the reasonable eccentricity can bring higher yield, larger crushing ratio and better granule shape.
2. Overload protection system
It can ensure long-term stable operation and low failure rate in granite and other hard rock crushing applications.
3. Positive pressure dustproof system
Keep lubrication system clean at all times, avoid dust pollution and reduce manual maintenance time.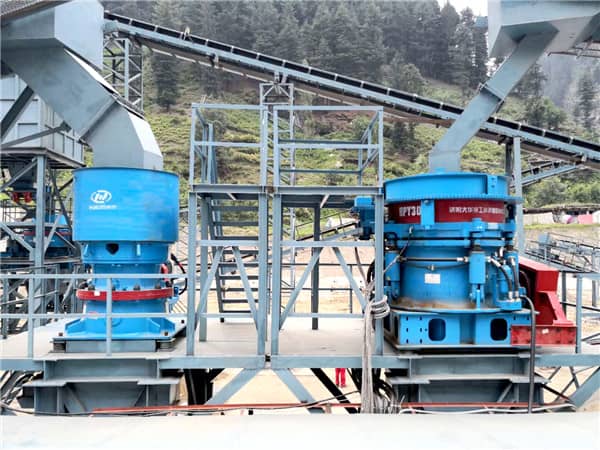 III. Wide adaptability
1. The cone crusher has two types of medium and fine crusher: GPY-S medium cone crusher/GPY fine cone crusher, which are respectively used for the second and third stage crushing to meet a wider range of inlet and outlet requirements.
2. Each model has a variety of cavity types to choose from, which can be more suitable for practical working conditions.
3. Adjust the eccentricity to adapt to different production processes, with the adjustment of transmission speed, to achieve the final product grading adjustment, to achieve greater equipment value.
It should be noted that the granite cone crusher is not only used for the crushing of granite, but also applicable for the crushing of other hard and medium hard ores and rocks. Specific materials can be used according to specific conditions. Luoyang Dahua specialized in the production of various types of crusher, stone crusher, welcome the majority of users to contact us: lydhchina@huazn.com.