Heavy Hammer Crusher Advantage and Working Principle
author:dahua time:2020-03-30
Heavy hammer crusher is one of the gravel crushing machinery, and is also a machine with high performance technology is the hammer crusher machinery. This crusher adopts excellent production technology, with the advantages of high efficiency, energy saving and environmental protection, according to the needs of the material can be adjusted into coarse crushing, medium crushing, and fine crushing. No flaky, no smooth body, multi-angle and multi-edge compressive stress performance, especially suitable for highway, construction and large processing capacity project materials. Heavy hammer crusher removes the initial breaking process of the jaw machine, and becomes a new machine to complete the crushing of large and small rocks, with large processing capacity, high efficiency, small power, saving labor resources and materials, and reducing the crushing consumption of rocks. This series of machines is used in crushing various kinds of medium hardness and brittle rocks, such as calcium carbonate, coal and other rocks, mainly used in cement, mining, coal preparation, power generation, chemical industry and building materials industry.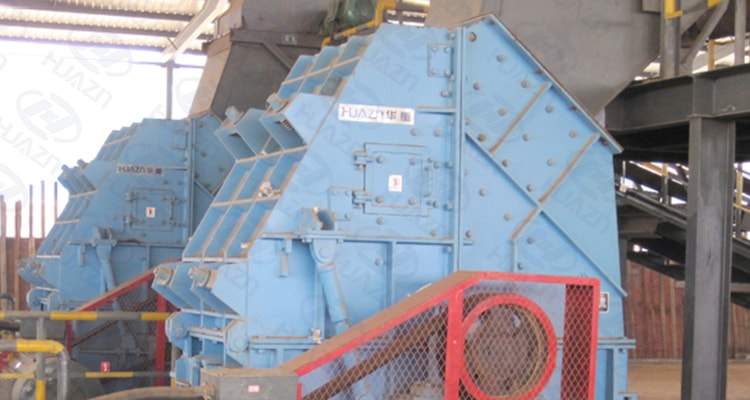 Advantages of heavy hammer crusher:
1. The machine has large feeding grain size and small discharging grain size;
2. Change the second crushing into primary crushing;
3. High efficiency and energy saving, correct rotor speed;
4. The weight of a single hammer head is large;
5. Heavy usage of hammer head.
Working principle of heavy hammer crusher:
The electromotor drives the rotor to rotate at high speed, when the materials are fed into the crushing chamber, they are crushed by impacting, cutting, hitting and grinding from the hammer which is moving with high speed. On the bottom of the rotor, there is sieve plate, the crushed materials with smaller size than the screen size are discharged from the sieve plate, and the coarse particles bigger than the screen size are retain on the sieve plate for further hitting and grinding by the hammer until they are crushed to the required granularity, and then discharged from the sieve plate.