High Washing Efficiency of Sand Washer favored by Many Customers
author:dahua time:2019-02-15
High washing efficiency of sand washer is favored by many customers. The sand washer manufactured by Luoyang Dahua is used for the washing, grading, cleaning of fine and coarse grained materials in the industry of metallurgy, building materials, hydropower and other fields. The machine has high washing efficiency, reasonable structure, large output, appropriate price, and simple maintenance, favored by many consumers.
Luoyang Dahua sand washer can process the materials from 20-300t per hour. Through continuous technical improvement, it can bring maximum economic benefits for the customer. Sand washer, spiral classifier, spiral sand washer, please contact: lydhchina@huazn.com or Skype: Crusher Dahua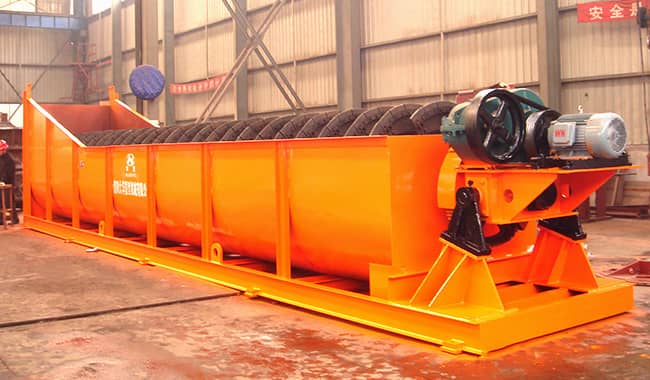 Introduction of sand washer
Sand washer uses special manufacturing materials, with abrasion resistance and anti-corrosion features, which can normally operate in any harsh environment, greatly extends its service life. Sand washer can handle the material within 10-75mm, to clean the mud and powder.
Working principle of sand washer
Materials are fed evenly from the feeding box. Fill the buddle with certain amount of water continuously. The driving unit drives the helical shaft run at the certain speed, which will force the materials to overturn and roll in the buddle and move towards the discharge end. The fine grains of materials and impurity will be drain out through the overflow weir, while the coarse grains will be discharged through the discharge outlet. In this way, materials can be washed, classified, purified and dehydrated.
Features of sand washer
Reasonable design structure, stable operation, large processing capacity, and high cleaning efficiency. Optimized spiral blade guarantees the washing and grading precision of materials. The spiral blades are made of wear-resistant materials to ensure the continuity of work and reduce the cost of maintenance.