How to prolong the Service Life of Multi-Cylinder Cone Crusher
author:dahua time:2018-07-12
Multi-cylinder cone crusher is used for the medium and fine crushing of the medium hard materials. HPY series multi-cylinder cone crusher has the features of high reliability, huge production capacity, high automation, easy operation and maintenance, good product shape and low cost for wearing parts. After many years' development, multi-cylinder hydraulic cone crusher has become the first choice in the market. It is found by Luoyang Dahua after summarizing years' site operation experiences that the service life of crusher can be prolonged by means of some simple operation methods.
1. Install buffer material bin and variable frequency feeder. Because the multi-cylinder adopts laminating crushing principle, it needs evenly feed with large quantity. Therefore, the buffer material bin should be equipped at the front of the crusher machine to ensure continuously feeding. The feed quantity must be adjustable, it is suggested that the variable frequency feeder is added to guarantee stable feeding.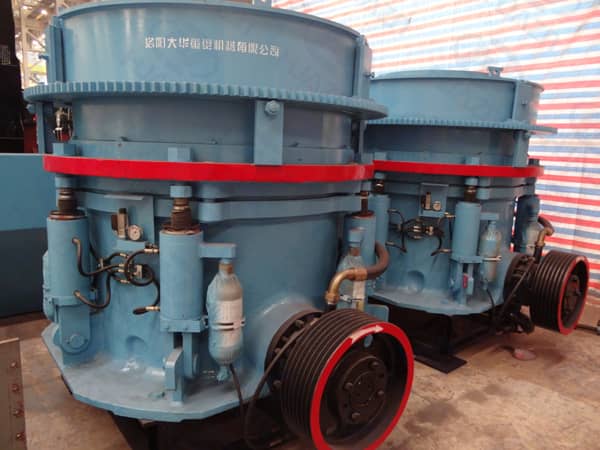 2. Install center-feeding device. The feeding and discharging material are also the important elements to affect the crushing efficiency and service life. The center-feeding device ensures feeding materials from the center, and discharge smoothly so as to prevent material piled caused by over wetting, more materials or more powder.
3. Install the iron separator and backstop device on belt conveyor. Belt conveyor is the feeding machine for cone crusher, so the configuration of belt conveyor will affect the machine running. Adding iron separator in feeding belt conveyor is to prevent machine damaged by more iron, while backstop device can prevent material return back when the belt stop.
4. Adjust discharge opening in full feeding condition. Because the minimum discharge opening can not determine the minimum finished products granularity, when you commissioning the machine, you must make sure fully feeding, and then adjust the discharge opening according to its load to let it reach the proper production load and finished product granularity.
Over the years, Luoyang Dahua has been committed to develop more excellent multi-cylinder hydraulic cone crusher, at the same time, we have accumulated rich experience in research and development, in production and site application, to bring the best experience effect for the customer and create greater economic benefits.