How to prolong the Service Life of Sand Making Machine?
author:dahua1 time:2019-06-06
With the need of economizing and recycling economy, prolonging the service life of mechanical machinery has become the important issue in production process. Sand making machine as the core machine in sand production line, enhancing the service life is of great importance.
1. Replace wearing parts in time.
With the development of construction industry, the need of sands is increasing. Many sand production enterprises have heavy construction tasks with tight project time limit, so the machine always under high strength operation. In this situation, people often ignore checking and maintaining of the machine, thus making the machine under high load operation condition. In the long term, it is easy to fault and influence the project schedule, even causing immeasurable losses. In order to ensure the sand making machine working normally, the operators should regularly open the observation door, and check hammer head, liner plate, impact plate and other wearing parts. The spare parts should be available.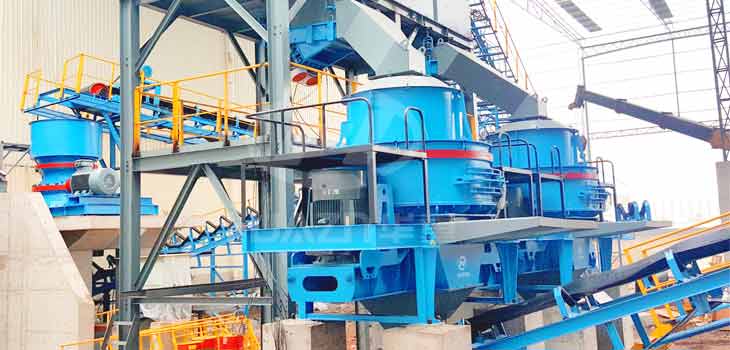 2. Add lubrication oil in time.
During operation process, add lubrication oil every 24 hours, and replace the bearing every 2 month to ensure the machine running smoothly.
3. The feed particle size should meet the requirement.
The feed granularity should not larger than 200mm, at the same time, the solid sundries are forbidden to feed. Otherwise, it will cause the impeller rotating unbalance and serious abrasion, or even blocking the impeller pathway and feeding pipe. Found the massive blocks should remove in time.