How to replace the Wearing Parts of Sand Making Machine?
author:dahua time:2018-07-24
The new type sand making machine (PLS vertical shaft impact crusher) is to crush the materials through mutual friction or crushing at high speed. This crusher machine can not only crush the stones, but also can shape the stone shape, which two working mode of "stone beat stone" and "stone beat iron".
No matter which kind of mining mechanical equipment, it has wearing parts and pare parts. The high quality wearing parts can making the machine has long service life. In this text, the editor will tell you how to replace the wearing parts of sand making machine.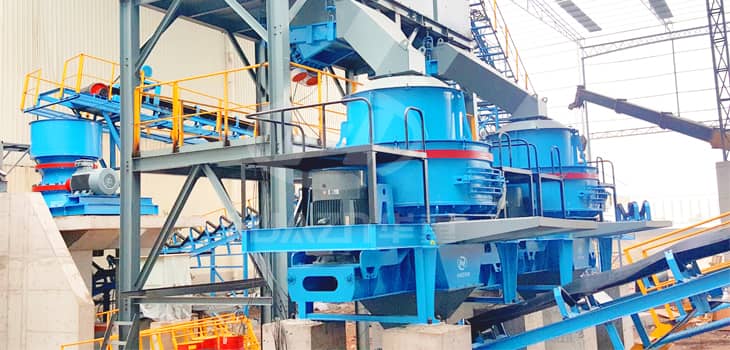 1. The impacting block of sand making machine is also called as butt ends which is the device that throwing the vertical falling materials. A sand making machine has three impact blocks (three butt ends).
2. The impacting liner plate of sand making machine is the plate that be used for breaking and striking the materials inside the crushing cavity. It has long service life with less abrasion.
3. The average service life of impacting block is 80-150 hours, and the service life of impacting liner plate 3-6 months.
Luoyang Dahua cobble sand making machine, PLS sand making machine choose the high quality steel plate and the spare parts to ensure the machine quality. Welcome the old and new customer contact us: lydhchina@huazn.com or +86 15837930610