Introduction and Features of Vertical Impact Crusher
author:dahua time:2019-02-28
Vertical impact crusher is also called as PLS sand making machine, which is used in the fine stage for stone shaping and making. Luoyang Dahua PLS sand making machine is the first VSI sand maker in China,awarded National New Product in 1991, and obtained National Patent in 1992 (PATENT NO.902183745). It has the working principle of "stone beat stone" and "stone beat iron",specially for the crushing of medium hard, hard or abrasive materials, such as sandstone, granite, basalt, bauxite, and magnesia. What's the features of vertical impact crusher?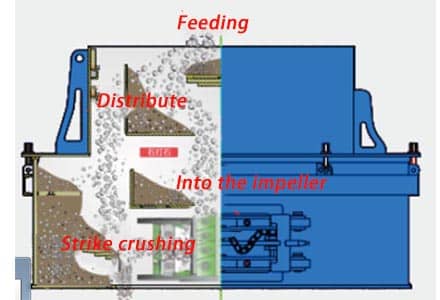 Features of vertical impact crusher (PLS sand making machine):
1. Sand making machine is composed of feeding hopper, crushing chamber, impeller, spindle assembly, foundation base and drive system. Deep cavity impeller has large processing capacity, the optimized crushing chamber makes the materials have good motion trail and shoot angle, so as to obtain a good crushing effect.
2. Automatic operation control system is optional. The system can realize real-time monitoring and early warning of equipment failure.
3. Equipped with glycerine automatic lubrication or thin oil lubrication system.
Over the years, Luoyang Dahua PLS vertical impact crusher has sold more than 2000 sets, which are widely used in artificial sand, refractory materials, glass raw materials and other industries, enjoying a high reputation and praise in the industry. If you want to know more details about the machine, please contact: lydhchina@huazn.com or Skype: Crusher Dahua.