Introduction of High Pressure Grinding Roll
author:dahua time:2019-03-27
High pressure grinding roll started late in China, but because of its advanced technology, stable performance, outstanding energy saving effect, it develops rapidly, has become the first choice for large cement plant. The high pressure grinding mill is applied for the fine grinding of various kinds of materials, such as granite, basalt, limestone, copper ore, and iron ore, and also can be used for a variety of metallurgical slag fine grinding processing, so that the tailings more fine, easy for the following grinding processing.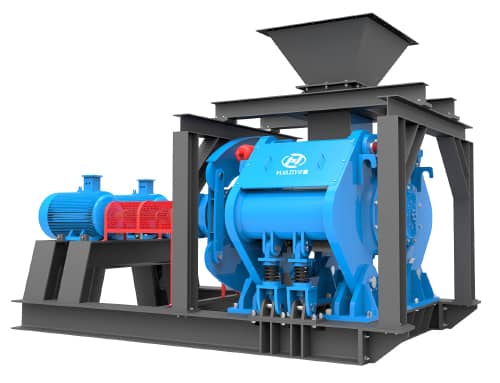 High pressure grinding roll structure: high pressure grinding roll is mainly composed of extrusion roller assembly, feeding hopper device, torque support device, hydraulic system, motor reducer transmission device, reducer lubrication cooling system, and electronic control system.
Working principle of high pressure grinding roll: the grinding roll is composed of two extruding rollers, one is fixed roll and the other is movable roll. The material is continuously brought into the roll by the extrusion roller, and after being subjected to high pressure, the material forms compacted cake and is removed from the machine. The way of materials grinding in high pressure grinding roll is the material laminating crushing, which is mutual crushing among the materials.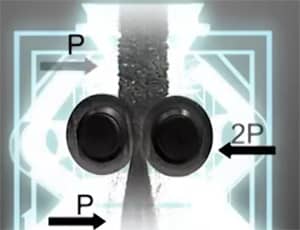 Parameter of high pressure grinding roll
Model
Roll Dimension
Motor
Reducer
Max. Pressure
Roll Speed
Feed Size
Processing Capacity
Dia.
Width
Power
Pole
Model
Speed Ratio
Rock
Mineral
DHM800/500
800mm
500mm
2×110kW
4P
Planetary gear
49.505
10MPa
18MPa
30.1rpm
-32mm
70-120t/h
DHM1000/625
1000mm
625mm
2×250kW
4P
Planetary gear
57.742
10MPa
18MPa
25.8rpm
-32mm
120-250t/h
Structure advantage:
1. New arched frame structure - roller gap keeps balance all the time, prolongs the service life of bearing and improves the operation efficiency of equipment.
2. Roller two side bolted flange structure - to solve the marginal effect and the phenomenon of material deviation, uniform pressure distribution, improve lining plate service life and equipment efficiency.
3. Roller bushing and split-inlaid wear-resistant lining plate - the replacement of the lining plate is convenient and fast, improving the operation rate of the equipment.
4. "Torsion brace" structure - reduces the need for high foundation endurance while saving space due to its compact construction.