Investment Capability of Mobile Construction Waste Crusher
author:dahua1 time:2019-09-24
The YT series crawler mobile crushing plant produced by Luoyang Dahua Heavy Industry Science and Technology CO., LTD. is a solid mobile efficient combined crushing workstation developed by foreign technology. It adopts heavy-duty crawler chassis, self-provided power, ingenious design and complete functions. It integrates the process design of feeding, crushing, sand making, screening and transmission, and can be formed by the combination of different model modules. A truly mobile crushing process and a full range of crushing operations are on the track site. The YT series crawler-type mobile crushing plant is designed with advanced intelligent control system, which can realize "one-button" start-up operation with high efficiency of crushing and controllability. The crushing station is compact in structure, easy to install, convenient in transportation and flexible in travel. It is suitable for working environments of various complex sites. It can be used for both open circuit and closed circuit production. It can produce high quality and various specifications of sandstone aggregate products, which are widely used. The crushing and processing operations of sand and gravel aggregates in high-speed, high-speed rail, water conservancy and hydropower, construction, commercial and mixed industries are applicable to urban construction waste treatment, municipal engineering, bridge and culvert construction and other projects that require timely movement and transition operations.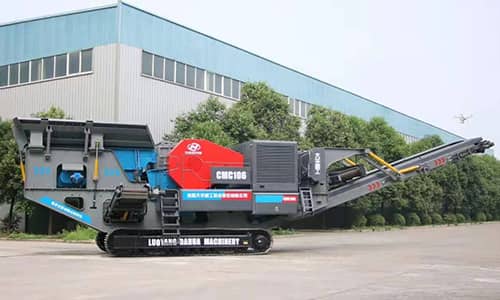 What is the investment of the device?
1. The demand for society is large.
As a construction waste waste-concrete block crushing device, this equipment can quickly and effectively solve the problem of building waste accumulation, realize resource recycling and reuse operations, and fast-paced social development is needed.
2. Intelligent operation, keeping up with the pace of the times.
In order to meet the development needs of the times, the mobile crushing processing mode of this equipment is upgraded and transformed on the basis of traditional crushing equipment, and adopts full intelligent remote control, which is efficient in production and convenient in use.
3. Green production and environmental protection operations.
The mobile construction waste crusher adopts a high-efficiency and low-energy green motor, and in order to ensure green production, it is equipped with a dust-removing and noise-reducing treatment device to make the production process more environmentally friendly.
4. Efficient, fast, flexible and maneuverable.
The mobile crushing and screening station can be adjusted from the transportation state to the working state in a short time, and the temporary and periodic crushing production line can be quickly established, and the rapid transfer, input and use, avoids the fixed and cumbersome pre-planning and construction period. The investment is to fully improve the utilization of equipment.
5. Eliminate the cost of construction waste transfer and avoid secondary pollution.
The proximity treatment mode of the mobile crushing production line completely eliminates the transportation costs incurred during the construction waste transportation process. In response to increasingly strict environmental protection policies, it can effectively avoid secondary pollution caused by the construction waste transportation process.