Jaw Crusher Components
author:dahua time:2020-03-19
After continuous upgrading, jaw crusher has better working performance, higher production capacity, and longer service life. It has an unshakable position in crusher machineries. In order to best play the effect of jaw crusher, it's better to know about its components, then we can take right remedy to optimize its performance.
Jaw crusher components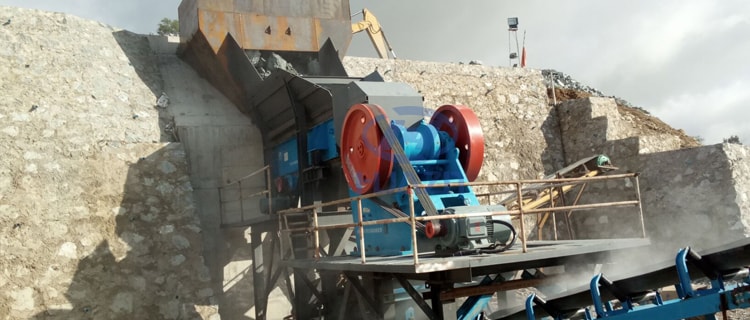 1. Jaw crusher frame
The frame is a four-wall rigid frame with upper and lower openings, which is used to support the eccentric shaft and bear the reaction force of the broken material. It requires sufficient strength and rigidity, and is generally cast as a whole with cast steel. Small crushers can use high quality cast iron to replace cast steel. The large frame needs to be casted in sections and firmly linked with bolts into the whole casting parts. The cast technology is complex.
2. Jaw crusher jaw plate and side guard plate
Fixed jaw and movable jaw are composed of jaw bed and jaw plate. Jaw plates are working parts, which are fixed on the jaw bed with bolts and wedge block. The fixed jaw bed is the front wall of frame, movable jaw bed is hanged around, requires sufficient strength and rigidity to support crushing force. Most of them are made of cast steel or cast iron.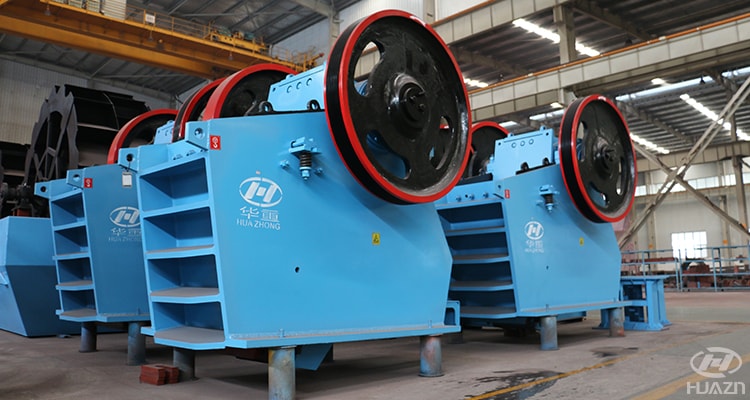 3. Jaw crusher drive parts
Eccentric shaft is the main shaft of the crusher, subjected to huge bending torque, made of high carbon steel. Eccentric part must be finished, heat treatment, bearing lining tile with babbitt alloy pouring. The eccentric shaft is equipped with a belt wheel at one end and a flywheel at the other.
4. Jaw crusher regulating device
The adjustment device has wedge block type, pad type and hydraulic type, etc., generally adopts wedge block type, composed of two wedge blocks before and after. The front wedge block can be moved back and forth, push against the back plate. The back wedge is an adjustable wedge, which can be moved up and down. The inclined surface of the two wedges is inverted to fit. The screw makes the back wedge move up and down to adjust the size of the outlet. The outlet adjustment of small jaw crusher is realized by using the number of gaskets between the thrust plate support and the rack after increasing or decreasing.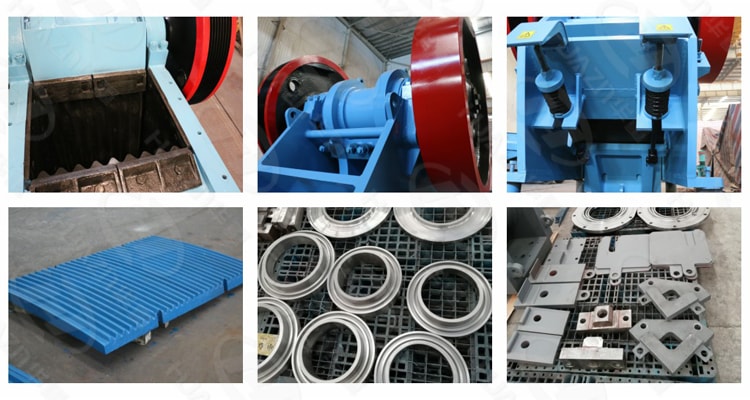 5. Jaw crusher flywheel
The flywheel of the jaw crusher is used to store the energy when the jaw moves, which is then used for industrial formation, so that the mechanical work is consistent and tends to be uniform. The belt wheel also acts as a flywheel. The flywheel is usually made of cast iron or steel, and the flywheel of mini jaw crusher is often made into a whole. When manufacture and install flywheel, should pay attention to static balance.
6. Jaw crusher lubrication device
Eccentric shaft bearings are usually lubricated with central circulation. The support surface of mandrel and thrust plate is usually fed with grease by hand oil gun. The swing angle of movable jaw is very small, making it difficult to lubricate between mandrel and bearing bush. A number of axial oil grooves are usually opened at the bottom of the bearing bush, and a ring is opened in the middle to make it connected. Then dry butter is forced into the oil pump for lubrication.
Luoyang Dahua can provide unit crusher machine, mill machine, sand making machine, and also can provide complete solution for the stone production line, EPC project. From before sale to after sale, the company has professional engineers to take in charge. For more information, please contact our online service or send email to lydhchina@huazn.com.