Luoyang Dahua Staff won the "Chinese Heavy Machinery Industry Craftsmen" Honorary Title
author:dahua time:2019-04-26
The Fourth Session of the Seventh Member Congress of China heavy machinery industry association and the Fifth Session of the Seventh Council Meeting were held in Beijing on April 19, 2019. Representatives from the ministry of industry and information technology, the state administration of market supervision, and over 150 members attended the meeting. At this conference, Dong Jinglong from REC Technology, the branch company of Luoyang Dahua Heavy Industry Science and Technology Co., Ltd. (hereinafter referred to as "Luoyang Dahua") won the honorary title of "Craftsman of Chinese Heavy Machinery Industry".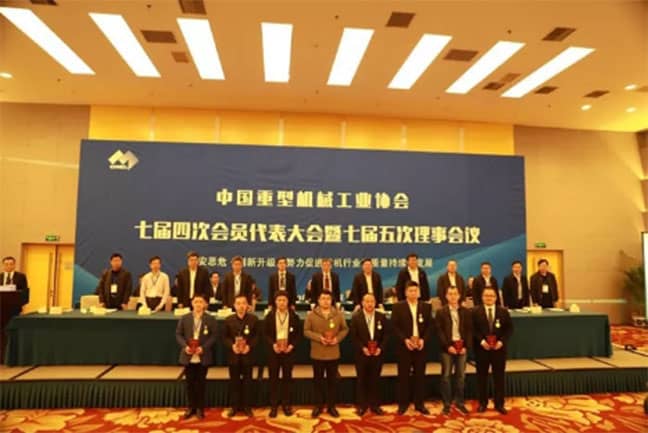 Established in 1958, Luoyang Dahua devotes itself to the research and development and manufacturing of crushers in the mining industry. After 60 years of development, Luoyang Dahua strives for keeping improving and extreme pursuit on the road of development. Living with heart, working with heart and managing with heart. Luoyang Dahua's employees have the courage to innovate in their own posts, and practice the spirit of craftsman in the craftsman actions, so as to bloom the flower of craftsman.
Dedication: China has always had the tradition of "loyalty", and professional dedication is the traditional virtue of Chinese people. Dahua staff treats every user attentively, and provide the most thoughtful pre-sale and after-sale service.
Concentration: The staff pursuit excellent, concentrate on every product and every process. Through on-site visit, and in-depth communication with customers, the company provides customers with the best solution.
Innovation: The enterprise must integrate "craftsmanship" into every step of production. It should not only have reverence for the profession and be accurate in quality, but also have the innovation vitality of pursuing breakthrough and innovation.