Mobile Stone Crusher Advantages
author:dahua time:2020-04-23
Mobile stone crusher is a very useful coarse crushing machine, compared with stationary crusher, its advantages mainly include no need to lay foundation, no need to carry materials, can move to the operation site by itself, and can be used at any place at any time. Mobile stone crusher can also be flexibly combined with different mine production equipment, save money and effort to work. Now, let's understand the advantages of mobile stone crusher.
Mobile stone crusher advantage - Movable stone crusher can move flexibly and reach the site easily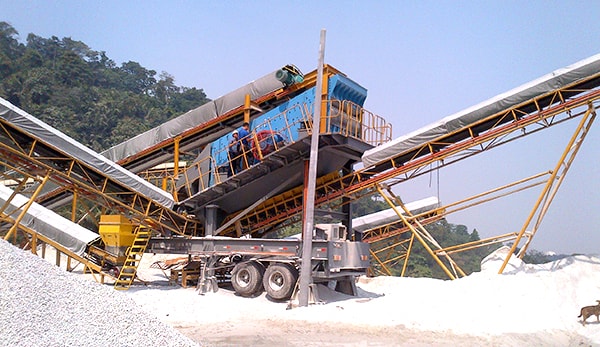 1. Reduce raw materials transportation costs: if the raw materials are more dispersed, the centralized transportation of raw materials is required, which results in a large amount of transportation costs. Adoption of mobile stone crusher can save transportation link, move to the operation site directly, which can save a lot of transportation cost.
2. Reduce a large amount of infrastructure investment: the use of mobile stone crusher no longer need to carry out complex infrastructure links, to the site only need simple installation and debugging can be put into operation, save a large amount of infrastructure construction costs and installation costs.
3. Reduce labor costs: mobile stone crusher has high degree of intelligence, a key operation to start, remote control system, only one person can operate the machine to produce sand, greatly reduce labor costs.
4. Late maintenance is convenient and cost saving: compared with fixed production line, mobile stone crusher has fewer parts, less aging problem, longer life, and low cost of wearing parts replacement and equipment maintenance, which can save a lot of operating costs for users.
5. Strong adaptability, can easily reach all kinds of work site, suitable for coarse processing of a variety of materials: pebbles, granite, marble, bluestone, limestone, iron ore, molybdenum, ore tailings, waste concrete, waste glass, coal, glass, ceramics and other 200 kinds of materials.
Luoyang Dahua has wheel type mobile crusher and crawler mobile crusher, our engineer can select the suitable type of crusher machine for you free of charge. Luoyang Dahua is China famous crushing and grinding equipment manufacturer, has 200,000 square meters of factory area, more than 80 engineers, the crusher equipments exported to Southeast Asia, the Middle East, Russia and more than 20 countries. If you want to know more about the mobile crushing plant, please visit: www.lydhcrusher.com or send email to lydhchina@huazn.com.