Operating Regulations for Vibrating Feeders
author:dahua1 time:2019-02-19
1. Preparation before starting:
(1) Read the duty record and deal with the remaining issues of the previous class:
(2) Check and eliminate any debris between the body and the chute, spring and bracket that affects the movement of the body;
(3) Carefully check that all fasteners are fully tightened;
(4) Check if the lubricating oil in the shaker is higher than the oil level;
(5) Check if the transmission belt is good; if it is found to be damaged, it should be replaced; when there is oil, use a rag to clean it;
(6) Check if the protective device is good and remove it when it is found to be unsafe.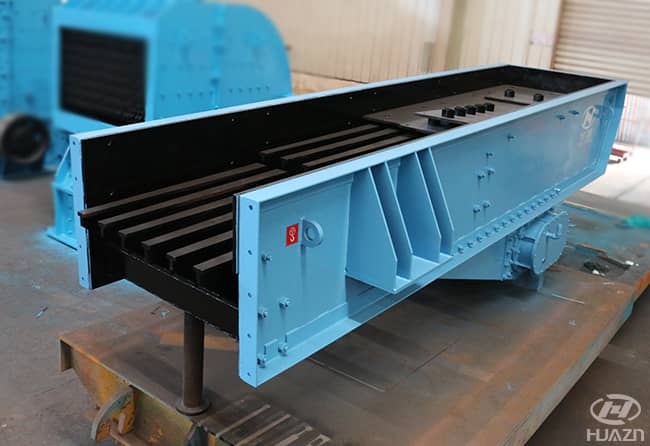 2. Start:
(1) After inspection, the machine and the transmission part are in normal condition and can be started;
(2) This unit is only allowed to start without load;
(3) If there is any abnormality after starting, stop immediately and wait until the abnormal situation is found and eliminated before starting again.
3. Use:
(1) After the machine is stable and vibrating, it can be run with material;
(2) The feeding should meet the load test requirements;
(3) The shutdown should be carried out in accordance with the process, and it is forbidden to stop the material or continue feeding after the shutdown.
For more information, please contact us:
Website: www.lydhcrusher.com
E-mail: lydhchina@huazn.com