Technical Characteristics and Advantages of Hydraulic Impact Crusher
author:dahua1 time:2019-10-29
PFY Series Hydraulic Impact Crusher is designed and developed by our company by introducing latest advantages of many domestic similar products. It adopts the heavy type rotor structure, high capacity crushing chamber, high wear-resisting alloy plate hammer, heavy impact-resistance impact liner, multi-point hydraulic adjustment device and hydraulic opening device. These advantages ensure following features: large crushing capacity, high crushing effect, big feed size, fine discharge size, big crushing ratio and good products shape. PFY impact crusher is widely used in secondary and fine crushing of sand and aggregate industry for low-abrasive rocks.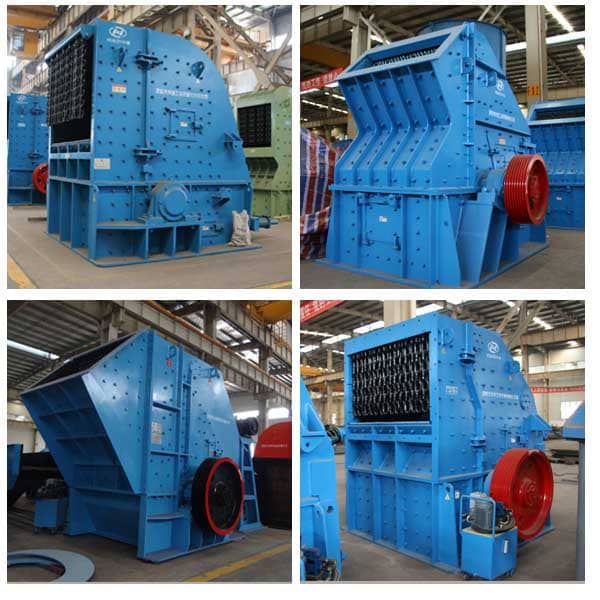 Features
The multi-stage counter-attack chamber of the impact crusher has enough crushing space and is suitable for the crushing of large materials. The angle of the counterattack of the impact crusher can be adjusted to ensure that the material is at an appropriate angle during repeated impact between the counter plate and the rotor, which can effectively improve the crushing efficiency. The step-by-step counter-crushing process can effectively reduce the energy consumption during the crushing process. The counter-attack plate adjustment system of the impact crusher also serves as the overload protection device of the whole machine. When foreign objects (such as iron blocks) or unbreakable pieces enter the crusher, the counter-attack plate can automatically retreat and bounce, allowing foreign matter to pass through the crusher. To prevent damage to equipment caused by foreign objects (such as iron blocks) or unbreakable blocks. The hammer of the impact crusher is firmly fixed on the rotor, so the starting torque of the crusher is small, the dynamic balance performance of the rotor is easy to control, and the disturbance during operation is small.
The part of the impact crusher frame is a three-part structure. It is only necessary to open the rear casing of the crusher to replace the hammer, counterattack and liner.
The parts of the impact crusher are highly interchangeable, and the variety of wearing parts is small, which facilitates the procurement and management of spare parts.
The hydraulic opening device is used for opening and closing the casing, which can effectively reduce maintenance labor intensity, improve maintenance work efficiency, and shorten maintenance work time.
When the rear frame and the access door are opened at the same time, all the wearing parts of the device can be replaced, thereby greatly improving work efficiency.