The All-New Designed GPY650 Cone Crusher debuts at Bauma China 2020
author:dahua time:2020-11-19
The all-new designed GPY650 single cylinder hydraulic cone crusher by Luoyang Dahua will debut at Bauma China 2020. GPY 650 cone crusher offers the production capacity from 1000-1200 t/h, and the feeding opening is 560 mm. At the primary crushing process, USES large jaw crusher.
Luoyang Dahua GPY cone crusher has the type of GPY100, GPY200, GPY300, GPY300S,GPY500S, GPY650,etc. It adopts high strength casting-steel frame, alloy forging main shaft and high precision arc-shaped spiral gear driving structure, combined with multi-chambers selection and automation control system, which fulfills the performance and advantages. This GPY cone crusher can be widely used in secondary and fine crushing work for all kinds of hard materials and rocks to meet customers' various needs for crushing.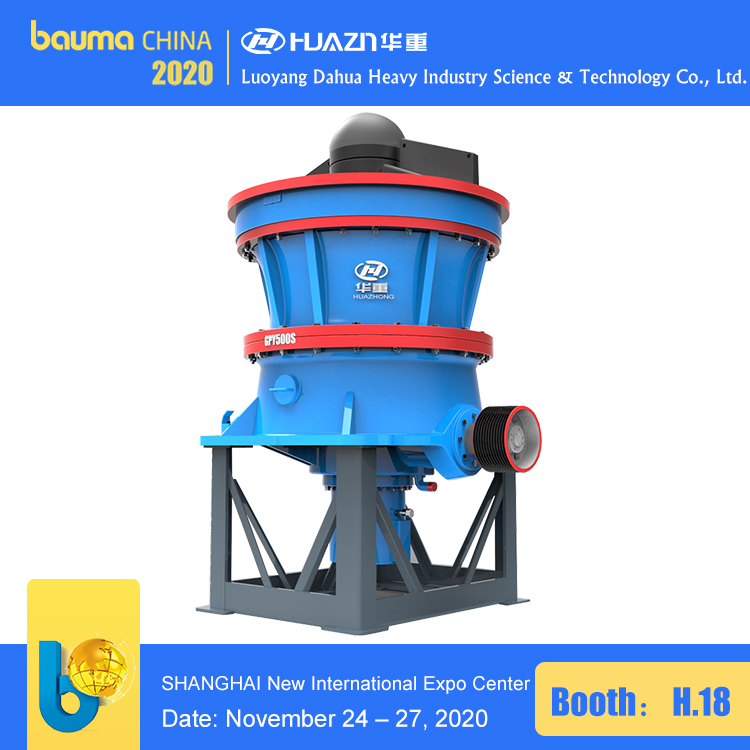 Features of single cylinder cone crusher
1. Large feeding opening, elongated crushing chamber, and the top frame is divided into upper and lower parts. Dynamic pressure lubrication system of eccentric sleeve can reduce the temperature of bearing after heating.
2. High processing efficiency. The single cylinder hydraulic cone crusher has supports at both ends of the spindle, which can withstand greater crushing force and greater stroke. With the special crushing chamber shape adapted to the lamination principle, the machine has higher crushing efficiency.
3. Laminating crushing, good grain type. The special crushing cavity and lamination crushing principle are adopted to produce the crushing action between particles, so that the proportion of cube in the finished product of cone crusher is obviously increased, the number of needle-shaped stones is reduced, and the grain size is more uniform.
4. Automatic system with overload protection and iron protection function. It can monitor oil temperature, oil quantity, crushing pressure, and size of feed opening, etc.
5. A variety of cavity types are available by replacement of the fixed cone.