Hot Sale Crusher HPY Multi Cylinder Hydraulic Cone Crusher at bauma China 2020
author:dahua time:2020-11-18
HPY multi cylinder hydraulic cone crusher is the hot product in Luoyang Dahua. This time, we will showcase HPY800 cone crusher at bauma China 2020. Luoyang Dahua HPY cone crusher has standard type and short head type, the max. feed size is 60-326 mm.
Parameter of HPY800 cone crusher
Power: 630 kW
CSS: 10-51mm
Throughput capacity: 240-110 t/h
Processed material: hard stone, mainly for fine crushing in metal mines.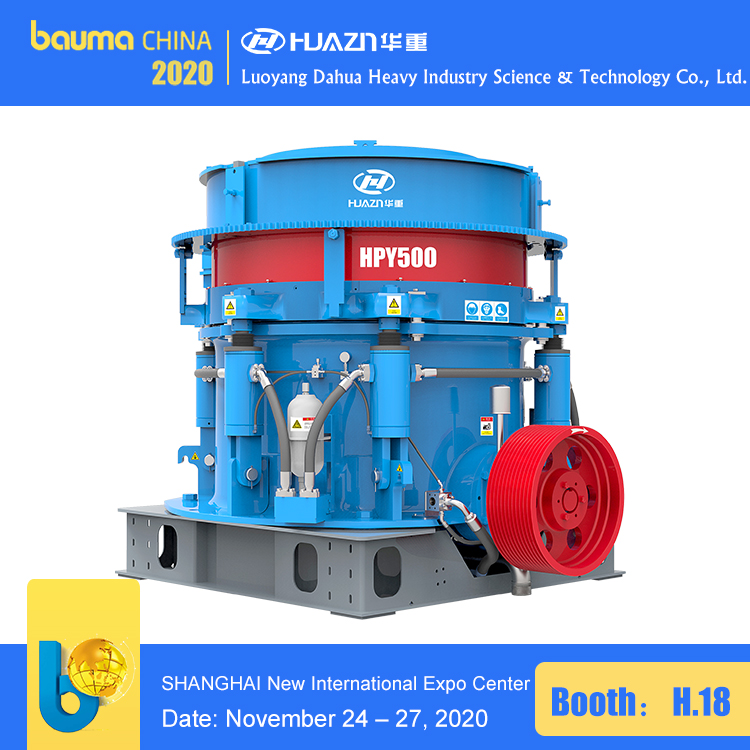 Above is the parameter of HPY800 cone crusher, Luoyang Dahua has other types of cone crusher, for the details, please consulting the online service, or visit www.lydhcrusher.com.
HPY cone crusher has the characteristics of large production capacity, large crushing ratio, good grain shape, low energy consumption, high degree of automation, high reliability, easy operation and maintenance, low cost of wearing parts, etc. which is applied in mining, metallurgy, and construction material.
Features of HPY cone crusher
1. Large crushing stroke, the production capacity is 2 times than that of single cylinder cone crusher.
2. Fixed shaft design makes the crushing force large and better products shape and size.
3. Use hydraulic motor as the substitute of hydraulic push rod to extract fixed cone within 10 minutes.
4. It has thick liner to prolong its service life.
5. With automatic control and intelligent monitoring.
6. The key parts applied high strength material to increase the weight of crusher for higher reliability.
Application of HPY cone crusher
175T/H River pebble crushing production line
Maim equipment: jaw crusher, cone crusher, PLS sand making machine, vibrating screen and sand washer.
Finished products:0-5,5-10,10-20,20-31.5 mm