Luoyang Dahua JC Jaw Crusher at Bauma China 2020
author:dahua time:2020-11-17
Luoyang Dahua is the leading manufacturer of crushing and grinding equipment in China, will extend at the 2020 Bauma China in Shanghai, China from Nov. 24-27 at hall H.18.
Luoyang Dahua will display our large JC 160 jaw crusher that offers throughput capacity from 490-1200 t/h at Bauma China 2020. Luoyang Dahua JC jaw crusher is suitable for crushing all kinds of hard and abrasive rock and mineral ore. It has two types for option, welded frame and modular frame.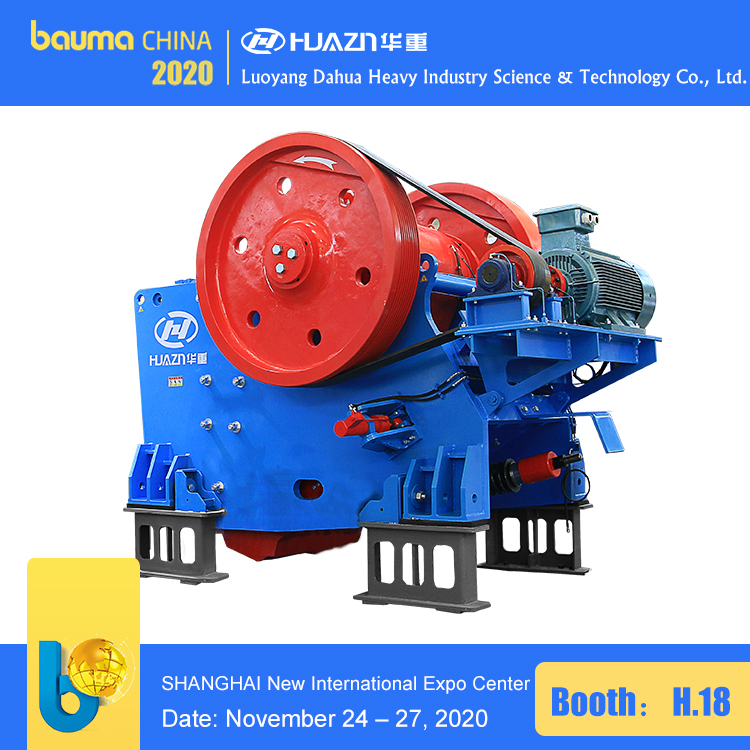 Features of JC jaw crusher
1. V-type design of crushing chamber, tight nip angle and deep chamber makes the machine has large processing capacity.
2. Adoption of large bearing ensures the big loading capacity, the loading capacity increased by 10%.
3. Double wedge adjustment device for CSS is simple, safe and fast. It can also reduce the downtime.
4. Either the hydraulic cylinder or rod spring will be used for swing jaw tension device.
5. Integrated motor design, as a result of synchronized motion of the frame, motor base and motor, adjustable motor base realized V-belt tension adjustment, increase the life time of the V-belt.
Parameter test of JC jaw crusher
JC125: Rotation speed 220r/min; motor power 160kW; rated current 288A; CSS: 170 mm
Material: limestone, mixture.
Max.granularity: 800mm;
Evaluation: Smooth operation, low noise, small vibration, performance higher than the industry standard.
Application of JC jaw crusher
2000 t/h hard stone aggregates processing system.
The 2000T/H hard rock aggregate crushing production line in Jiangxi province is undertook and designed by Luoyang Dahua. Since the project was launched in October 2019, the project is currently under construction methodically.
Main equipments: ZSW210*600 vibrating feeder,JC160 jaw crusher, GPY500S cone crusher, HPY800 cone crusher, and 3680 large vibrating screen.