The Main Factors affecting the Production Capacity of Impact Crusher
author:dahua time:2021-01-06
When purchasing the impact crusher, the production capacity has always been the most concerned problem of customers. In order to select the appropriate crushing equipment, the users must consider a number of aspects, including the nature of the crushed material, rotor speed, rotor inertial energy and the Angle of the impacting plate, etc. Because these factors have a great impact on the impact crusher productivity, now let us analyze in detail the major factors that impact the crusher production capacity.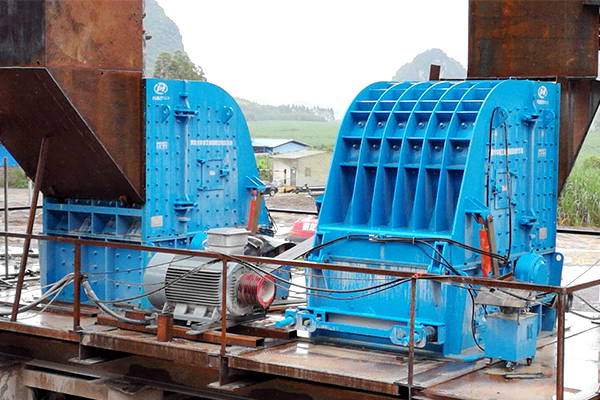 I. Nature of materials
Different materials have different properties, and there will be more or less differences in hardness, humidity, viscosity and other aspects, also on the impact of the crusher production capacity will have different degrees. For example, when crushing the material with high humidity, the material is easy to stick in the crusher, and also easy to block in the process of material delivery, resulting in the decline of equipment production capacity.
II. Rotor speed
The study of the rotor speed of the impact crusher has a guiding role in the analysis of the production capacity of equipment, can help users choosing the appropriate rotation speed for different particle sizes and materials, so as to prevent the excessive crushing of the materials, reduce energy consumption.
III. The rotary inertia of the rotor
For each type of impact crusher, there is a certain range of production capacity, which is largely related to the rotary inertia of impact crusher rotor. In the case of the same rotor speed, the rotor with different rotary inertia can provide different crushing force, that is, different production capacity..
IV. Angle of the impacting plate
The angles of the impacting plates at all levels have a great influence on the effective crushing force of the material hitting on the impacting plates, at the same time, the impacting and shearing effect of the material is also greater. Therefore, when buying and debugging the impact crusher, we must pay attention to observe the Angle of the impacting plate. The ideal situation is that the material can be perpendicular to the impacting plate every time when it collides with the impacting plate. However, this effect is rarely achieved in actual production, the user can adjust the Angle of the impacting plate to close to the ideal state.
Luoyang Dahua has more than 30 years in manufacturing crusher machine, like jaw crusher, impact crusher, cone crusher, and mobile crusher, etc. The impact crusher has high quality, large processing capacity, easy maintenance and long service life, welcome the customer contact us: lydhchina@huazn.com