What Configuration is needed for Environmental Production Sand Production Line?
author:dahua1 time:2019-12-09
Due to the problems of ecological environment and air pollution, relevant government agencies have become more and more strict in monitoring the environmental protection of heavy industry enterprises, and many stone factories have faced various embarrassments such as production suspension, sealing, closure, and reporting. The supply of sand and stone aggregate is in short supply. This is a dark age for sand and stone factories that cannot meet environmental protection standards. But is this not a new opportunity? Dismantling unqualified production lines and rebuilding environmentally-friendly production lines, production equipment meets standards, environmental protection and economic benefits can be a win-win situation!
Four points to pay attention to in environmental protection production lines:
1. Dust reduction: The atomization nozzle uses a new type of full-line atomization nozzle concept design to reduce dust flying out and eliminate human injury to workers on the spot; improve the material supply system from the source: scientifically improve the material supply system The treatment reduces the dust release from the source; the dust removal system is added, and a variety of specifications of dust removal and noise reduction equipment are reserved and installed to control the dust emission and noise release of the sand making machine in real time and effectively, which is more conducive to environmental protection.
2. Noise reduction: Select equipment with low noise or install mufflers as much as possible in order to reduce the noise of these equipments; take measures to control the noise propagation path, and arrange the noisy equipment in closed workshops. At the same time, greening outside the workshop is adopted to shield the noise from varying degrees with its shielding effect.
3. Sewage discharge: domestic sewage is pretreated by septic tanks and used as water for greening and farmland irrigation. It is not discharged; spraying water for dust removal is consumption water, and it will naturally evaporate after dust removal.
4. Energy saving and consumption reduction: The design complies with the relevant national energy conservation regulations to achieve energy conservation and reasonable use of energy. The energy conservation measures adopted by various majors such as technology, civil engineering, and electrical engineering are coordinated with each other to give full play to energy conservation benefits and make the overall energy saving of the project Best effect. New energy-saving equipment and technologies are used in the design, and backward products are not selected.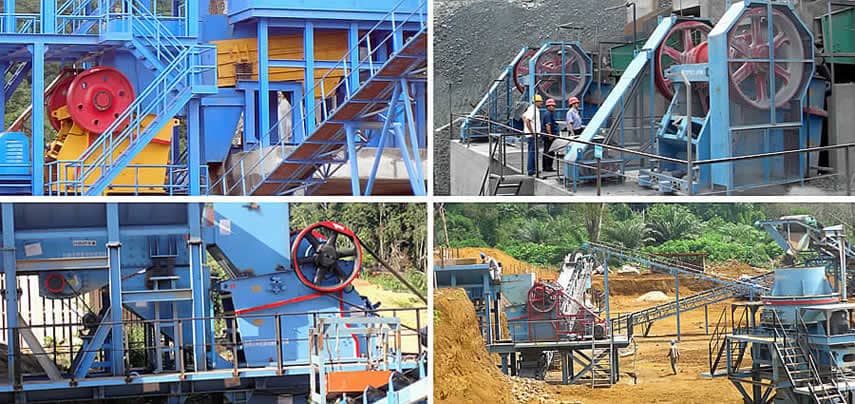 Complete process configuration of common stone sand production line:
1. Cobblestone sand production line
a. Features: hard texture, strong corrosion resistance, high pressure resistance, belongs to a green building stone.
b. Output: 80 ~ 100T/H
c. Configuration: vibrating feeder + jaw crusher + cone crusher + sand making machine + circular vibrating screen + conveyor + sand washing machine.
2. Quartzite sand production line
a. Features: hard, wear-resistant, stable chemical properties, widely used in industry, after sand-making is commonly used in glass, building materials and other industries.
b. Output: 100 ~ 130T/H
c. Configuration: vibrating feeder + jaw crusher + circular vibrating screen + cone crusher + sand making machine + conveyor + sand washing machine
3. Limestone sand production line
a. Features: Its main component is calcium carbonate, the texture is of medium and low hardness, and it is widely used in construction and industry. Sand making is more common.
b. Output: 150 ~ 300 T/H
c. Configuration: vibrating feeder + jaw crusher + impact crusher + sand making machine + circular vibrating screen + conveyor + sand washing machine
For more information, you can click: www.lydhcrusher.com