What is the Difference between Jaw Crusher and Hammer Crusher crushing Large Stones?
author:dahua1 time:2020-03-13
Hammer crusher is mainly used for stone crushing in the building materials industry, highway and railway construction, and other industries using stone. This product is suitable for the crushing operation of various materials such as limestone, gypsum, brick, slag, coal gangue, salt and other materials. It can directly crush materials with a large particle size of 750-1500mm to about 20mm. The jaw crusher is referred to as jaw crusher, which is widely used in the rough crushing of various minerals and rocks in various industries such as mining, building materials, highways, railways, water conservancy, and chemical industries. So, when to break with a jaw and when to break with a hammer, you must first understand the differences in these areas!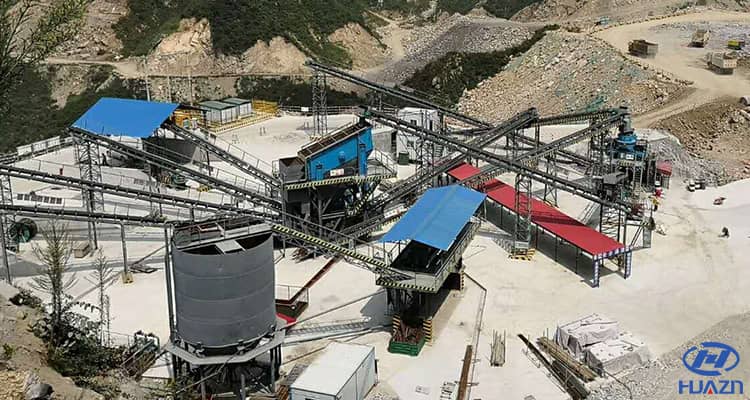 1. The appearance and working principle are different
Friends who understand these two types of equipment can distinguish from the appearance, and the working principle is also very different. The jaw crusher works by crushing and crushing. It consists of two jaw plates, the moving jaw and the static jaw, to simulate a animal. The two jaws move to complete the crushing of the material, so it is also called "Tiger Mouth". The hammer crusher is mainly crushed by impact. After the equipment is started, the motor first drives the rotor to rotate at high speed, and the material enters the cavity of the hammer crusher and is rotated.
2. Different crushed materials
Jaw crusher can crush various soft and hard materials, such as: granite, quartz stone, river pebble, iron ore, etc. Hammer crusher is mainly used to crush ore with low hardness, and the compressive strength is generally lower than 200Mpa, such as: limestone, bluestone, coal gangue, etc. When crushing hard materials, the hammer head is severely worn. It may take thousands of dollars to change a set of hammer heads. For ordinary high-manganese steel hammer heads, it needs to be replaced in 2 or 3 days, which is too costly.
3. Different material adjustment methods
The hammer crusher adjusts the discharge granularity by replacing the bottom sieve plate. There are many adjustment methods for the jaw crusher, including pad adjustment, wedge adjustment, and hydraulic cylinder.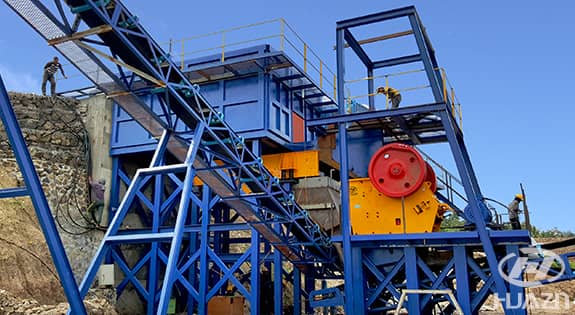 4. Different production line configurations
In general, the jaw crusher has high needle content in the discharge, and it needs to cooperate with counterattack to perform shaping, so we often see the configuration of jaw crushing + counterattack. Hammer crusher is mainly used in industrial first-level crusher. It can be formed once without secondary crushing and shaping process. Therefore, a single hammer crusher is commonly used in small and medium-sized production lines.
5. Different applications of gravel aggregate line
Hammer crushers are rarely used in sand and stone aggregate production lines. Although the process is simple, the yield is low, it is easy to crush, there are many powders, and the finished aggregates may have micro-cracks, low compressive strength, and affect the aggregate. Quality also affects sales and prices, so it is often used as auxiliary sand making equipment. Jaw crushing is often used as coarse crushing equipment for aggregate production lines, followed by impact crushers or cone crushers for medium crushing, followed by sand crushers for fine crushing and reshaping.
Hammer crushing and jaw crushing have large crushing ratio, simple structure and high output. They are common coarse crushing equipment in the mining industry. The former crushes materials by impact, and the finished product has a more uniform grain shape and less pin content. The limitations are that it is not suitable for hard rock crushing and the hammer head wears quickly. Jaw crusher is suitable for various hardness materials. The limitation is that the grain type is not ideal. The secondary crusher (cone crusher and impact crusher) needs to be equipped in the follow-up. If the particle size of the finished product is high, a sand making machine is needed, finely crush and reshape the material. It is worth mentioning later that when crushing soft rocks such as limestone and bluestone, the hammer crusher integrates the function of crushing and shaping to achieve the effect of one break and two breaks. Therefore, when using these two types of crushers, you must choose them according to your actual situation and use the crusher in the right place to exert the maximum value!