How to configure 200 Tons of Vertical Shaft Sand Making Machine Sand Production Line?
author:dahua1 time:2020-03-16
In infrastructure construction, the materials used for infrastructure construction mainly come from river pebble, quartz stone, dolomite, iron ore, granite, basalt, iron ore, etc. These materials can be turned into fine aggregates by vertical shaft sand making equipment , Fine sand, become the best choice for making concrete! In many production line configuration schemes, the production line with an output of about 200 tons per hour is the most popular, which can meet the supply volume, less investment, and quick return of funds.
How to configure a 200-ton concrete aggregate (machined sand) production line?
Vibration feeder + jaw crusher + hammer crusher + vertical shaft sand making machine + circular vibrating screen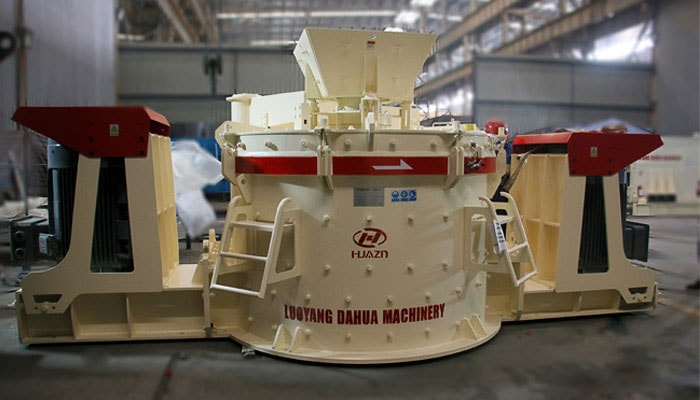 Vertical shaft sand making machine: High-efficiency vertical shaft crusher, advanced high-quality forming and fine crushing equipment developed through independent innovation and multiple technologies. Compared with other products, it has higher yield, better grain shape and higher use cost. It is necessary equipment for fine sand and fine aggregate! The new generation product, an upgraded version of the hammer crusher, can achieve "one-time molding", high efficiency, energy saving and environmental protection, no flakes, no smooth objects, and multi-legged multi-face positive compression strength. Excellent performance and remarkable effects, once popularized, have been well received in various fields of crushing technology.
Advantages of concrete machine sand: quality advantage, stable and adjustable quality control; quality advantage, complete gradation, stable particle gradation, adjustable particle shape can be improved; resource advantage, use of various waste resources such as mines can be processed into sand. Aggregate plays a supporting or filling role in concrete and is divided into coarse aggregate and fine aggregate. When mixing concrete, the cement is mixed into slurry with water. If no aggregation is added, it will not form and will not be usable. Therefore, aggregate is a very important raw material in construction. High-quality stone coupled with advanced and high-quality sand making equipment, high-quality sand and high-quality stone ensure the quality of infrastructure construction.
For more information, you can click: www.lydhcrusher.com