What kind of crusher equipment is used for iron ore? What are the specifications and models?
author:dahua time:2021-02-07
Iron ore is an important raw material for steel production enterprises. In addition, iron ore is also widely used in chemical industry, electronics, machinery, infrastructure and other industries. The processing of iron ore requires the corresponding crusher equipment.
Iron ore is hard, if the crushing equipment is not selected correctly, the later production will suffer losses.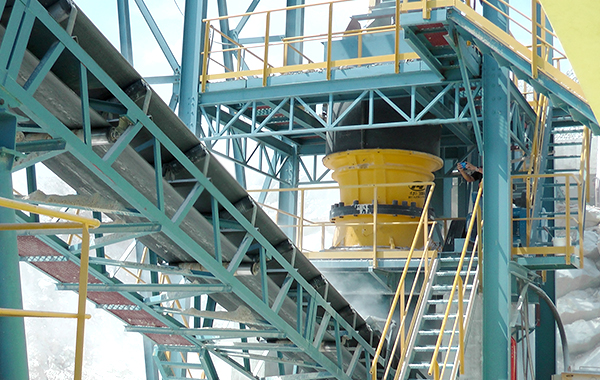 The hardness of iron ore determines which crusher is more suitable. Generally speaking, most crushers can break iron ore. However, if impact crusher and hammer crusher are used, serious wear and tear will be caused to hammer head, rotor, plate hammer and other components, high frequency of replacement of parts, more downtime, and the late operation costs will increase sharply. Therefore, jaw crusher and cone crusher are used for the crushing of iron ore.
Jaw crusher is made of high chromium alloy jaw head, steel casting structure, and reasonable design of crushing Angle, which is suitable for crushing hard stones. Cone crusher uses lamination crushing, bending crushing, the crushing cone and rolling mortar wall match with each other, it is good at fine crushing of high hardness ore.
Jaw crusher
The jaw crusher has many specifications and various configuration forms.
Crusher

Processing Capacity

(t/h)

Power

(kw)

Max. feeding

(mm)

Discharding size

(mm)

DHKS jaw crusher
1-500
15-160
770
20-250
JC European jaw crusher
50-1500
75-355
1360
60-300
C jaw crusher
185-1300
110-355
1200
65-325
mobile jaw crusher
120-800
96-132
700
60-250
Cone crusher
Cone crusher is good at breaking hard rock, safe and reliable operation, high degree of automation.
Equipment

Processing Capacity

(t/h)

Power

(kw)

Max. Feeding

(mm)

Discharging Size

(mm)

multi-cylinder cone crusher
75-1100
160-630
60-298
8-51
single cylinder cone crusher
36-2181
90-750
500
6-41
hydrualic cone crusher
36-450
90-280
35-228
3-64
mobile cone crusher
57-630
96-132
360
8-51