Advantages of Mobile Crushing Station for Processing Construction Waste
author:dahua2 time:2021-11-30
Mobile crushing station (wheel type + crawler type) is suitable for stone operation with strong mobility, such as construction waste recycling treatment, roads, railways, water conservancy, building materials and other construction fields. The mobile crushing station can have a variety of matching methods, and the specific processing capacity and the size of the incoming and outgoing materials are mainly related to the host equipment. The mobile crushing station has obvious advantages in processing construction waste, as follows: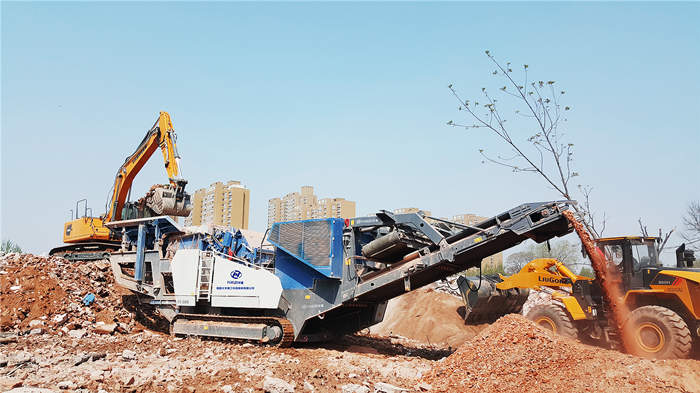 1. It can climb and move, can be adapted to walk on rugged mountain roads, can reach any place on the production site, flexible and free, and meet the crushing requirements of mines, hydropower stations, coal mines, etc.; and the equipment is light in weight and small in size, suitable for working in narrow places;
2. High degree of intelligence, automatic production operation, and remote control system, which can issue a warning and automatically stop operation when the equipment operation encounters an abnormality, which is safe and reliable.
3. It can be matched with a variety of high-performance crushing and sand making equipment, and different matching methods can meet different production needs. The equipment is installed on a car, and a piece of equipment is equivalent to a production line. It can start operation without installation when it reaches the site. So it is very convenient.
4. The equipment is dual-purpose for oil and electricity, and it can continue to work in the event of a power outage or power failure.
5. The mobile crushing station has good airtightness, and is equipped with dust and noise reduction devices, so that the production site is not easy to produce pollution.