Analysis of Impact Crusher's Advantages
author:dahua1 time:2019-05-15
Impact crusher is widely used in the fields of construction, water conservancy, chemistry industry, highway and railway for its outstanding advantages. In this text, we will analysis the advantages of impact crusher.
1. Impact crusher can effectively deal with large moisture content of materials to prevent the crusher blocking
When the moisture content of material is too large, the feed chute and impact plate of impact crusher can be equipped with heating device to prevent the adhesive of the material. Impact crusher must be equipped with the bottom screen plate which can effectively prevent blocked.
2. Impact crusher is suitable for soft material and is also suitable for the more harder materials
The flat hammer of impact crusher adopts the mechanical clamping structure fixed on the rotor firmly, which has a lot of moment of inertia when rotation with the rotor. Compared with the hammer crusher (hammer head went into a state of suspension), the rotor of impact crusher has more momentum, which is suitable for crushing the harder material and has low energy consumption.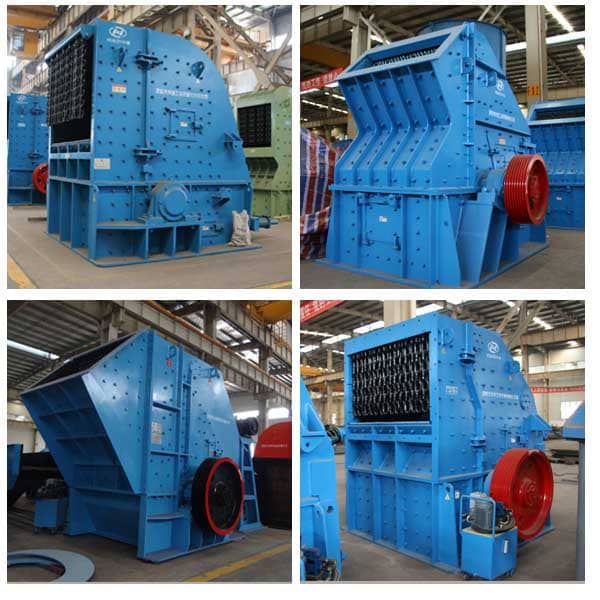 3. Impact crusher can adjust the discharging granularity convenient and flexible, the adjusting range is extensive
Impact crusher can adjust the discharging granularity in a variety of ways, such as adjust the rotor speed, adjust the clearance of impact plate and grinding chamber, etc. Clearance adjustment can be adjusted by mechanical type or hydraulic type, the hydraulic regulating system can easily to complete the clearance adjustment through the on-site operation button or remote control system. However, the discharging granularity of hammer crusher just can be adjusted by changing the bottom of screen plate.
4. The wear parts of impact crusher worn smaller than that of hammer crusher, and high utilization rate of metal
The flat hammer of impact crusher wear only appears in the facing side of material. When the rotor speed is normal, the feeding will fall into the surface of flat hammer (impact side), the back face and side face of flat hammer are not worn. Even this side that face to material will be worn rarely. Moreover, the bottom grinding rod is also easy to be replaced. The metal availability of flat hammer for impact crusher can be as high as 45% - 48%.