Basalt Sand Making Machine - Basalt Crusher Price
author:dahua time:2019-11-07
Basalt is the best material for the construction of road, railway, and airfield runway. Basalt has the features of wear resistance, less water absorption, poor electrical conductivity, strong compression resistance, low crushing value, strong corrosion resistance, and asphalt adhesion, and is recognized internationally as the best foundation stone for the development of railway transportation and road transportation. For the above features, Luoyang Dahua develops a new crusher machine for basalt crushing, that is basalt sand making machine.
Introduction of basalt sand making machine:
Basalt sand making machine is made of wear resistant material with high iron, long service life and stable performance. With "stone beat stone" and "stone beat iron" two kinds of crushing cavity, the crusher can achieve the function of crushing and shaping. In addition to basalt sand production line, basalt sand making machine can also be used for the sand making of granite, diabase, sandstone and other medium hard, strong hard and corrosive materials.
Advantages of basalt sand making machine:
1. Deep Impeller design makes the materials be processed completely, so as to achieve the better crushing effect. Large handling capacity, low consumable parts.
2. Automatically control system can be selected. This system can realize real-time monitor of the granite crusher, to forecast the machine fault, such as bearing temperature, machine vibration, motor current and so on.
3. Thin oil system can be equipped with dry oil automatic lubrication or thin oil lubrication. The former requires manual refueling, while the latter is equipped with thin oil lubrication station to realize automatic continuous refueling.
4. The wear parts are standard modularity. It is convenient for maintenance.
Basalt sand making machine is widely used for the artificial sand production in water conservancy, hydropower, refractory materials, construction, high grade road, railway and other industries. So, the basalt crusher price is concerned by many users. Everyone wants to buy cost-effective, economic, and durable equipment.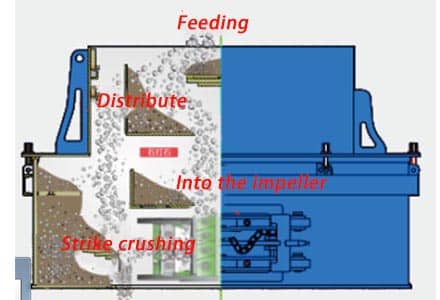 Basalt crusher price
Luoyang Dahua basalt sand making machine with complete models, handling capacity ranging from 24 t/h to 715 t/h. There is small scale sand making machine, large scale sand making machine. The specifications are different, the price is also different. When the users choose the basalt crusher, it's better to consult the crusher manufacturer based on detail requirements.
Luoyang Dahua is established in 1958, with high reputation in China mining industry. The main products are jaw crusher, impact crusher, cone crusher, sand making machine, and mill machine, sand washer, grading machine. We can also provide different solutions for the stone crushing production line to meet the user's demand. Welcome the users contact us: lydhchina@huazn.com.