Debugging of Limestone Crusher
author:dahua time:2019-11-06
Limestone crusher is simple in structure and strong in crushing force. After crushing, the finished product is uniform in shape and the product is a cube. It is widely used for the crushing of artificial sand and stone materials in cement, building materials, chemical industry, metallurgy, hydropower, expressway, high-speed railway and other industries. After installation, limestone crusher needs to be debugged by professional technicians, debugging work will directly affect the usage of crusher equipment. Luoyang Dahua, specializing in the production of crusher, the limestone crusher equipment, and the field service personnel has the professional theoretical knowledge and rich on site experience. Here, we simply introduce the attentions of limestone crusher during the debugging.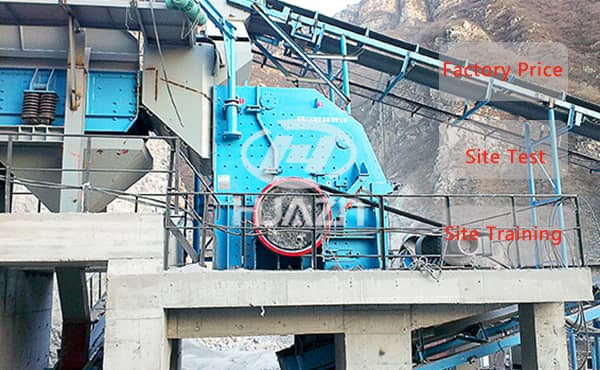 (1) The rotor has passed the balance treatment before delivery, and the users generally do not need to do the balance test. When replacing the hammer head and rotor parts, the balance configuration should be made.
(2) The installation of the machine body should be balanced, the spindle levelness error is less than 1mm/m, the master and slave driving wheels are in the same plane, the belt should be adjusted appropriately, and the motor should be fixed.
(3) Check whether the installation position of each part moves, deforms and locks all bolts, and check whether the seal is good.
(4) Check the wiring and fastening of the electrical box, adjust the delay relay and overload protector, switch on the circuit, test the steering of the motor, and select the fuse of appropriate specifications.
(5) Check whether the operation of the hydraulic system is reliable and whether there is leakage.
(6) Remove foreign bodies in the limestone impact crusher, move the rotor by hand and check whether there is friction or collision.
Limestone crushing mainly uses jaw crusher, impact crusher, if there are sand production needs, a sand making machine can be added. Here we recommend Luoyang Dahua PFQ strong impact crusher, the good helper of limestone crushing.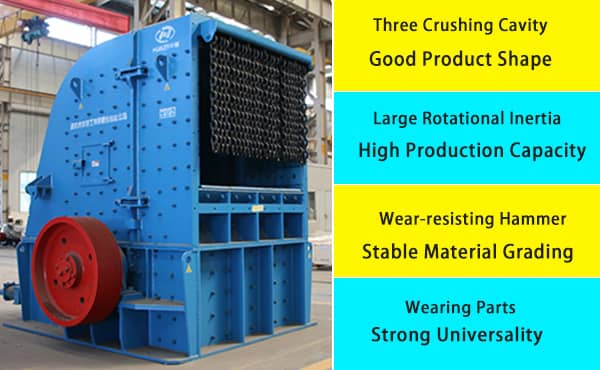 PFQ series vortex strong impact crusher is a high efficient impact crusher developed by Luoyang Dahua. This product is suitable for the primary, medium and fine crushing of various materials with compressive strength less than 250MPa, especially for building aggregates used in hydropower engineering, such as river pebbles, limestone, bluestone and other materials. Production capacity: 46-670 t/h, maximum feed size: 150-900mm.
Advantages of PFQ limestone impact crusher
1. The unique three-stage crushing chamber makes the crushing efficiency higher and the capacity larger.
2. The impacting plate and hammer have strong universality, and the worn impacting plate can be replaced with each other, which make the replacement of wearing parts simple and reduce the inventory.
3. Compact structure, strong machine rigidity, rotor has a large moment of inertia.
4. High chromium plate hammer, impact resistance, wear resistance, and large impacting force.
5. Keyless connection, convenient maintenance, economical and reliable.