Burning Reason of Eccentric Sleeve in Cone Crusher
author:dahua time:2018-10-08
Hydraulic cone crusher is the most used crushing machine in stone crusher production line. Once the fault occurred, it needs to overhaul at downtime. Burning of eccentric sleeve may be one of the faults. Generally speaking, there are three conditions to indicate the bushing:
1. The crusher machine is blocked completely;
2. Lubrication oil is too hot;
3. Copper dust is on the return oil filter.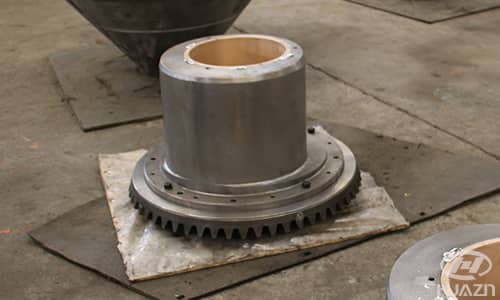 The following reason may cause the burning of eccentric sleeve:
1. Use of improper lubrication oil;
2. Failure of lubrication system (oil pump);
3. Poor quality of liner plate;
4. Improper lining cavity;
5. CSS is too small;
6. Eccentric feeding;
7. The powder content in the feed material is too high;
8. Incorrect rotation direction.
Luoyang Dahua will give you the professional guide at 24 hours. If you need more help, please contact on-line service or send email to lydhchina@huazn.com. We will try out best to serve you.