Can granite scraps make sands? What sand making machine is needed?
author:dahua time:2019-05-24
Can granite scraps make sands? What sand making machine is needed?
Granite belongs to a kind of ore with high wear-resistance, and the C jaw crusher is needed for crushing during operation process. The granite after primary crushing can be treated for sand making to produce coarse sand and fine sand aggregate required for the market.
Granite has high hardness, which is undoubtedly the better sand aggregate raw material. In the process of granite crushing, should analyze the size of granite, fineness of finished fine sand and expected output, configuring the most efficient sand production line. PLS sand making machine and VSI sand making machine are ideal choices for the granite sand making.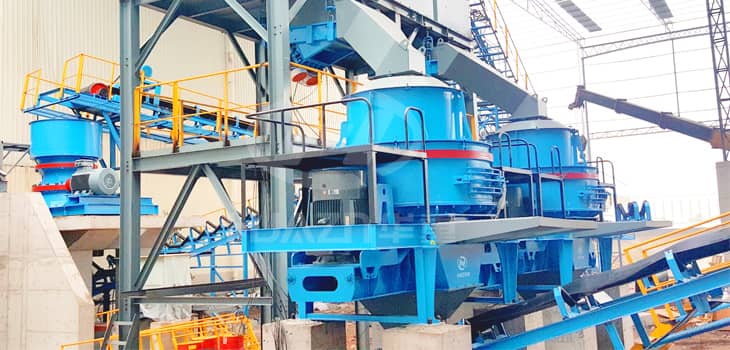 Sand making for granite and its scraps - PLS sand making machine can not only provide the best quality sand aggregate for expressway, high-speed railway, high-rise buildings, municipal engineering, hydropower dam construction, and concrete mixing station, but also the mainstream equipment for metal ore crushing, quartz sand production, and steel slag treatment. PLS vertical sand making machine is a new high efficiency crusher recognized worldwide. The sand making machine can process hard granite, river pebble, basalt and quartz stone with ideal effect.
The required equipments needed in the granite production line are jaw crusher, impact crusher and PLS sand making machine. If the sand processing production with large scale, the vibrating feeder can be equipped at front, and configure circular vibrating screen after sand making to ensure the finished stone grain shape and quality.