Cone Crusher makes Contribution to the Construction of Hydraulic Engineering Project
author:dahua time:2018-07-27
Stone aggregates are widely used in hydraulic engineering construction, and the application of cone crusher not only enhances the production efficiency, but also ensures the stone quality. The production process is stable. Cone crusher is divided into short-head type and standard-head type. Short-head type is mainly used for the fine crushing, and the standard-head is used for the medium crushing. Sine cone crusher has many types of crushing cavity, it is applied for the crushing of various kinds of stones, which is also the key equipment in semi-dry sand making process in hydraulic engineering project.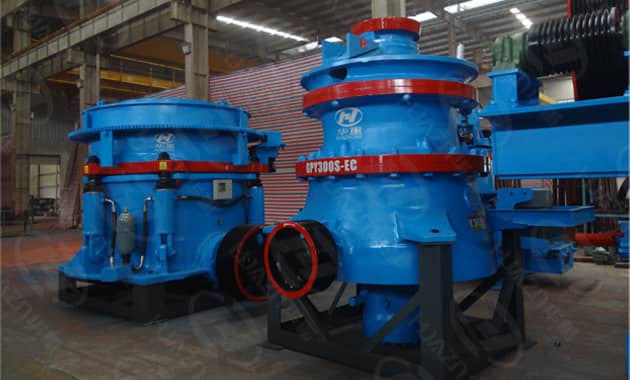 Hydraulic cone crusher is a kind of high efficiency cone crusher, Dahua crusher has the following features:
1. Reasonable structure, advanced crushing principle, reliable operation, and low cost. It has large crushing force, high production efficiency and output;
2. The convenient and reliable hydraulic provides the safety and effective overload protection;
3. Multi-type crushing cavity is suitable for the wide range requirement of product granularity;
4. It adopts hydraulic adjustment and hydraulic clean device, which greatly improve the degree of automation;
5. The optimized crushing cavity reduces the needle - like content.