How much do you know about the Characteristics of the Impact Crusher Production Line?
author:dahua1 time:2020-01-02
Impact crusher can be used for secondary and fine crushing. It adopts cube design, convenient operation and maintenance, high efficiency and energy saving, it can realize selective crushing.
Large stones are transferred from the hopper to the primary crusher through a vibrating feeder for crushing, and then the crushed materials are conveyed to the impact crusher through a belt conveyor for secondary crushing. The broken material will be conveyed to the vibrating screen and divided into different sizes. The appropriately sized aggregates will be transferred to the product pile, and the inappropriately sized aggregates will be transferred to the impact crusher for re-crushing. This forms a closed loop. Product sizes will be classified and separated according to customer requirements, and dust collectors can be added to protect the environment.
Impact crushers are widely used in mining, metallurgy, building materials, roads, railways, water irrigation and chemical industries. It has the characteristics of large crushing ratio, uniform particle size, simple structure, reliable work, convenient maintenance and economic operation.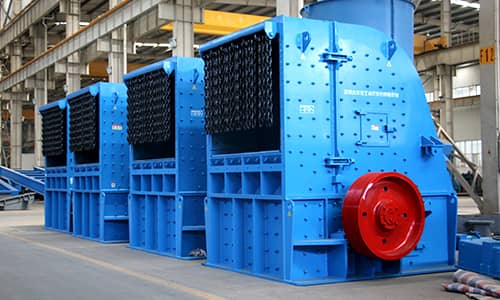 Features of the impact crusher production line:
1. High chromium steel plate hammer is made of alloy, with good impact resistance and wear resistance.
2. The impact crusher has small volume and small space.
3. Large crushing ratio, large feed hole, adjustable discharge hole, and less powdery finished product.
4. Multiple crushing chambers; suitable for hard rock crushing.
5. The rotor adopts advanced technology for local reinforcement.
6. New wear-resistant materials make the life of flat hammer, impact plate and liner longer.
7. The space adjustment between the impact plate and the flat hammer is convenient. The finished product is cubic.
8. Hydraulic opening device, easy to operate, install and maintain.
Impact crusher is widely used for coarse, medium and fine crushing of various ores, building materials, cement blocks, granite, limestone, etc.