How to purchase Crusher Machine?
author:dahua time:2021-03-12
According to the type of crusher, there are at least 20 kinds, and more than 100 types of models are subdivided, involving coarse, medium and fine crushing of sand and stone. Coarse crushing machine is jaw crusher, gyratory crusher, and heavy hammer crusher. The medium crushing equipment is mostly used as secondary crusher machine, including impact crusher, cone crusher, hammer crusher, etc. Fine crushing is mostly used in the field of sand making, such as the roller sand making machine, impact sand making machine, double rotor sand making machine.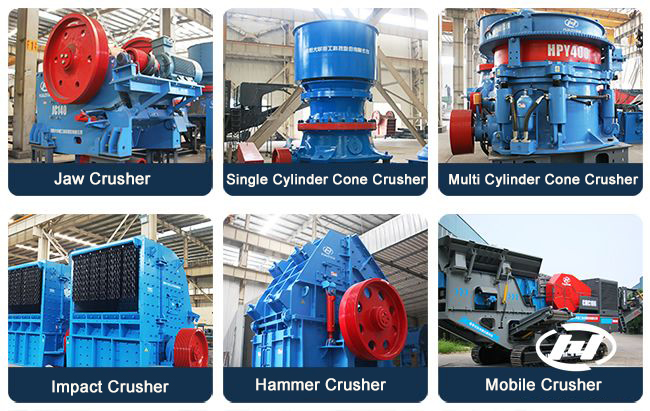 About how to choose a more appropriate crusher, in fact, we need to choose according to the production needs. Only the crusher that meets the production demand can bring good results to the production process.
It is particularly important to determine the crushing process before purchase. Here, take the crushing of low hardness materials such as limestone and bluestone as an example to explain the crushing production line technology.
Jaw crusher is still used for coarse crushing, and impact crusher is used for secondary fine crushing. The finely crushed stone is sent to the vibrating screen by the belt conveyor for screening, the stones that meet the particle size requirements are sent to the finished product stockpile respectively, and the large stones that do not meet the particle size requirements are returned to the impact crusher for re-crushing. In order to meet the requirements of environmental protection, we can provide customers with a full set of dust removal equipment for the production line.
The coarse crushing machines produced by Luoyang Dahua are JC jaw crusher, C jaw crusher, DHKS small jaw crusher, PEY hydraulic jaw crusher. The fine crushers are PFQ impact crusher, HPY & GPY cone crusher, PLS sand making machine, PG roller crusher. The products obtained ISO and CE certification, which are sold to France, Russia, Japan, Korea, Indonesia and other 30 countries. If you want to know more information, please contact us: lydhchina@huazn.com.