How to solve the Problems of Vertical Complex Crusher during Working Process?
author:dahua time:2019-06-03
Vertical complex crusher is used in fine crushing stage. It has simple structure, large crushing ratio, no grizzly bar, and crushes the material with moisture content above 8%. During working process, vertical complex crusher will appear more or less problems, how to solve it to make the machine play the maximum effect?
1. If there are very violent knocking sounds occurred inside the crushing chamber of vertical complex crusher, we must switch off the power, stop the machine and clean the crushing chamber.
2. If the machine produces a great vibration in the operation process, check whether there are non-crushed materials enter into the crushing chamber, and check the fastening situation of liner plate as well as the clearance between hammers and liners.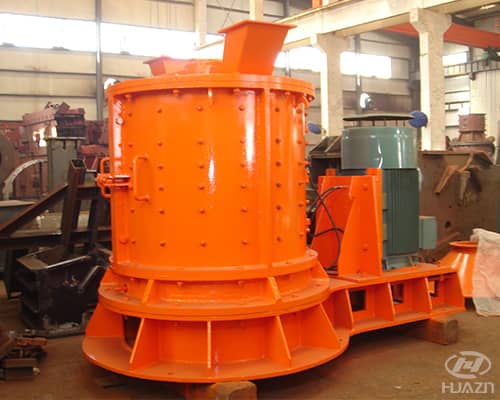 3. Bearing faults are mainly manifestation in bearing damage and bearing heating. Bearing damage is mainly caused by the rotor or bearing installation unbalanced. Bearing heating is mainly caused by lacking of lubrication oil, or dirty oil. Under these condition, we should installed the bearing following the installation regulation, and pay more attention to the bearing maintenance.
4. Hammer head is the wearing part of vertical complex crusher. After long time working, the working surface of hammer head will be worn, and the clearance between hammer head and liner plates is increased, the friction is decreased. The hammerhead damage is inevitable, only as long as possible to extend the life of the hammerhead.
Above is the solution for vertical complex crusher. If there is any problem that you cannot solve during daily use and maintenance, please contact our online service as soon as possible, or send email to lydhchina@huazn.com. We will reply you within 24 hours.