Luoyang Dahua Bucket-wheel Type Sand Washer VS Screw Sand Washer
author:dahua1 time:2019-09-07
The sand washing machine is also called a stone washing machine. It is mainly used for the removal of impurities (such as dust) from sand products. It is a sand washing machine because it uses more water washing methods. Among them, because it is generally mechanical sand (broken from stone), it is also called a stone washer. Due to its different appearance and principle, it is a spiral sand washing machine and a bucket wheel sand washing machine. Sand washing machine is the necessary equipment for high-quality aggregate material in the mechanism sand production line. The general mechanism sand finished aggregate has more dust, more impurities and high mud content. If customers have high requirements for finished aggregates, they need to add Wash the sand washing machine. But what is the difference between these two sand washing machines? What are the advantages and disadvantages? Which one is more suitable?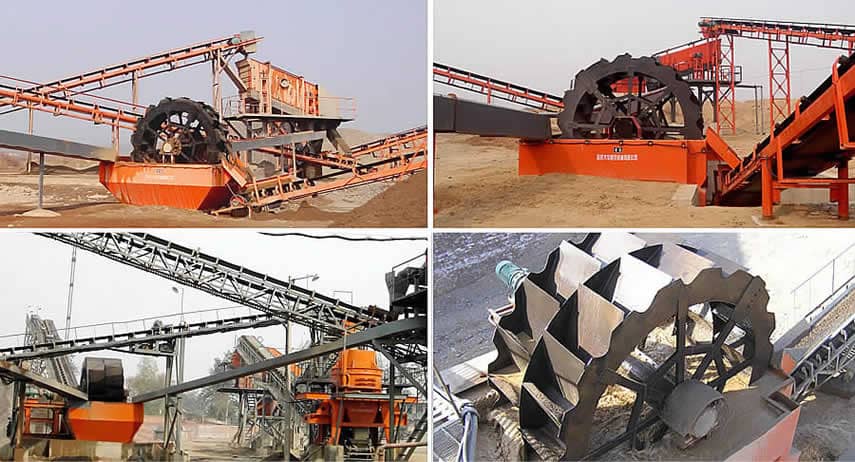 Description
DXS Bucket-wheel Type Sand Washer is a new type structure washing machine combined with sand industry situations and practical experience for many years. The machine is widely used in washing works of aggregate, which improve sand quality after deducted mixed stone powder and sundry.
Features
1. Smart structure, the gearing of bucket-wheel is above the water avoid destruction of water and sand mud.
2. Rotation of sand washer is stable; it can be controlled by adjustment of fine sand and stone powder loss, which reach good performance.
3. High quality of sand, high capacity, low consumption of power, and convenient maintenance.
Working Principle
Materials are fed evenly from the feeding box. Fill the buddle with certain amount of water continuously. The driving unit drives the helical shaft run at the certain speed, which will force the materials to overturn and roll in the buddle and move towards the discharge end. The fine grains of materials and impurity will be drain out through the overflow weir, while the coarse grains will be discharged through the discharge outlet. In this way, materials can be washed, classified, purified and dehydrated.

Description
XL Series Spiral Sand Washer is an efficient desliming, sand washing and stone washing equipment, which is widely used for sand and aggregate washing, grading, removing impurity in highway, railway, construction, building materials, and water and electricity industries and so on. According to the amount of washing materials, the machine can be divided into two kinds of structure, single spiral and double spiral. It also can be divided into two kinds, light and heavy, according to the product size of washing materials. Light spiral sand washer is suitable for washing and screening of fine materials, which is less than 10 mm. Heavy spiral sand washer is suitable for coarse materials, which is more than 10 mm less than 80 mm.
Features
1. Adjustable wide overflow weir structure makes desliming, dehydration, removing impurity and sand washing more efficient.
2. The machine are equipped with reliable driving and transmission device, special underwater seal structure of the rotary part, which ensure running stable.
3. The spiral blades are made of wear-resistant materials, which ensure working continuity and reduce the running cost.