PFL Vertical Complex Crusher - the Perfect Choice for Limestone Crushing
author:dahua time:2019-02-21
PFL vertical complex crusher, the perfect choice for limestone crushing. Limestone is a kind of naturally formed goods, is the raw material of building materials and industrial field. Limestone can be directly processed into stone and fired into quicklime. Because of its reasonable structure, high crushing rate, with fine and coarse grinding function, PFL vertical complex crusher is especially suitable for crushing limestone. It is a common equipment in limestone crushing production line.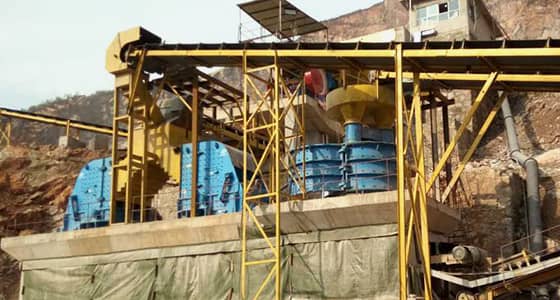 Introduction of vertical complex crusher
Vertical complex integrates the design of hammer crusher and impact crusher, classifies the crushed materials and increases the energy step by step. It includes main frame, rotor, hammer head, liner plate, cylinder body, feeding opening, discharge opening and other components. It is characterized by large crushing ratio, small energy consumption, smooth operation, simple structure and convenient operation and maintenance.
Working principle of vertical complex crusher
Materials fall into the high-speed rotating impeller vertically from the machine upper side, under the action of centrifugal force at high speed, are struck and crushed with the other parts of materials distributed in umbrella form. After the materials collide with each other, between impeller and housing forms an eddy current, materials will be hit and rubbed mutually for many times, which are discharged through the lower part of the impeller, forming a closed circuit, controlled by the screening equipment to achieve the required finished products granularity.
Operation Regulation of Complex Crusher
1. The machine door must be closed before staring the machine. Do not open the door to prevent the accident.
2. Start the machine without load, and feed the materials until the machine running normally.
3. The feeding granularity must meet the requirement. The large size would damage the machine and reduce the output.
4. Stop the machine when the abnormal phenomena appeared. Restart the machine after trouble shooting.
5. Fill the lubrication oil regularly.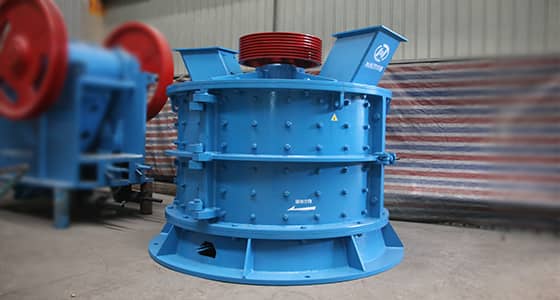 PFL vertical complex crusher is suitable for the crushing of soft and medium hardness materials. The maximum feeding granularity is 100-200mm, the discharging granularity is ≤3mm account for 70-90%. The crushing process is passing through type, has large through put, high speed and output. If you want to know more information about our crusher machine, please contact: lydhchina@huazn.com or Skype: Crusher Dahua.