Sand Production Line Configuration
author:dahua time:2021-03-19
With the decrease of natural sand, mechanism sand market shows great potential and vitality. Especially in recent years, the demand from the construction market is huge, which promotes the rapid development of the sand and stone market. With the improvement of infrastructure, investors see the business opportunities and want to open a small and medium-sized stone sand crushing plant. So how to configure the stone sand production line?
Usually, the complete crushing equipment of a small and medium sized sand production line includes a feeder, jaw crusher, sand making machine, vibrating screen and belt conveyor. The output is generally around dozens of tons per hour, and its investment is not high enough to be accepted by most individual investors.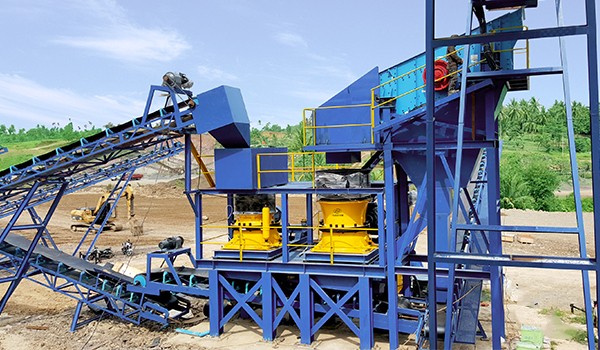 Configuration principle of sand production line
Stone production line mainly uses a series of stone crushing equipment to crush stone and produce artificial sand, aggregate and so on. Different production lines have different equipment configurations, and there are two basic guidelines to follow in the configuration:
1. Understand material characteristics and requirements
Before configuring the sand and stone production line, it is necessary to make clear the material properties to be processed, such as hardness, size and so on. According to the crushing material, output requirements, and the requirements of the particle size of the finished product to consider the configuration of crusher, and sand making machine. The selection of crushing sand making machine should not only meet the output, but also consider the size of the feed port, in case the materials cannot enter.
2. Know your finances
When configuring the sand and stone production line, we should choose different production lines according to our own investment strength. The user should be configured according to their own actual purchasing ability.
Luoyang Dahua has rich experience in mining industry, providing tens of thousands of crusher equipment to the customer, please contact us online service

or send email to lydhchina@huazn.com to get latest quotation.