Structure and Feeding Attentions of Hard Rock Impact Crusher
author:dahua time:2019-06-24
Hard rock impact crusher is a kind of crushing equipment that has been widely used in mining industries. PFY series hard rock impact crusher is designed for crushing rocks and stones with compressive strength higher than 300MPa and Mohs hardness over Grade 6. It features with powerful rotational inertia, long service life of hammerhead and wearing liner, high production rate and finished product with rhombus shape. Today, we will talk about the structure and feeding attentions of hard rock impact crusher.
Structure of hard rock impact crusher
PYF hard rock impact crusher consists of frame body, impact device and motor. Frame boy has upper and lower parts. The right side linear has material feeding guide plate, beneath the frame body installed the main bearing.
Impact device composes of impact plate and hanging device. Within the impact plate installs the sawtooth-shaped liner plate made of high wearing-resistant material.
Rotor consists of main bearing, turnplate, plate hammer and plate hammer locks. The rotor is made of casting structure. It connects the main shaft by locking device.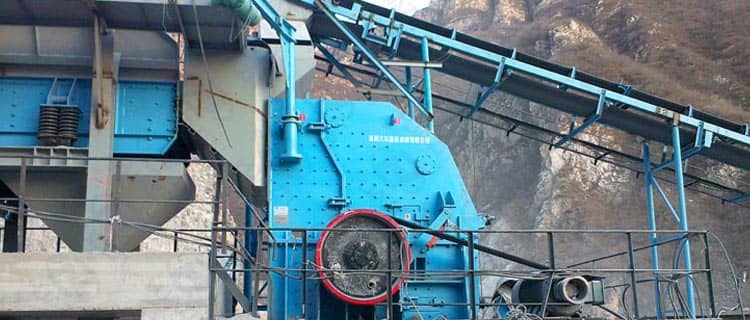 Feeding attentions of hard rock impact crusher - the materials evenly distribute throughout the rotor can prolong the service life of impact crusher and reduce the using cost.
The feeding system must have sufficient capacity to ensure that the impact crusher can always accept enough material, otherwise, excessive feeding will cause the impact crusher wear, change the finished products size, and overload the motor and drive system.
Install a metal detector at the front of impact crusher to prevent the metal mixing into the raw materials.
The feeder must be equipped with a manual switch to control the feeding materials.