The Development Potential of Sand Making Machine
author:dahua1 time:2019-07-24
Sand making machine is one kind of crushing machine, the development potential is of great promising. It is mainly used for the crushing and shaping process of material with medium and extreme hardness. It has much more efficient crushing efficiency when dealing with material with hard or extreme hard materials. Currently, sand making machine is regarded as the most ideal equipment for sand making.
On one hand, the development of sand making machine has achieved strikingly improvement especially on the quality, technology and performance. Currently, the new type sand making machine equipped with hydraulic booting system demonstrating extremely superiorities on all aspects. For instance, compared with traditional equipment, it has the features of high production rate, much more stable and easy maintenance. Moreover, the consumption of spare parts is very low and the final product has good granularity shape, which makes the final materials is quite suitable for the requirements of the construction material, meeting the demand, reducing the energy consumption and environment pollution etc. All of these advantages demonstrate that such machine is of great development potential.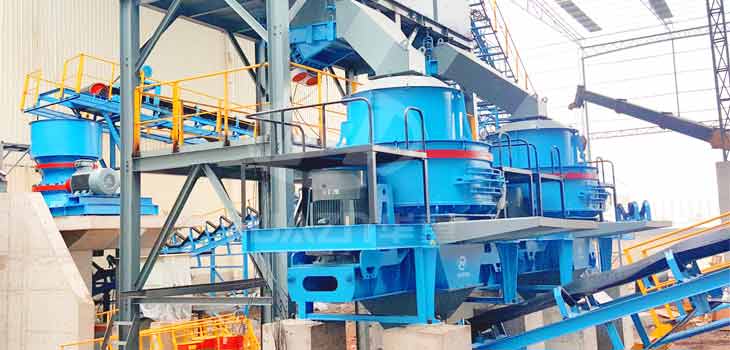 On the other hand, the infrastructure and real estate development is on the rise, which drives the demand of aggregates that in return increases the demand for sand making machine, this is also a great development opportunities for sand making machine. Besides, the large-scale exploration of natural aggregates increases the pressure of our nation's soil resource and environmental treatment. With the decrease of the natural aggregates, arterial sand making becomes the priority method to gain aggregates. Artificial aggregates have much more even granularities and could better meet the construction demand and could improve the quality of the buildings. Hence, the development of the sand making machine is promising.
As a professional manufacturer specialized in the production of crushing equipments, Luoyang Dahua Heavy Machinery Co., Ltd through years of exploring and research, successfully developed the PL series Vertical Shaft Impact Crusher that has two different modes for the customers to choose. One is "stone-to-stone "mode, another one is "stone to iron" mode.