The Difference between Cone Crusher and Impact Crusher
author:dahua time:2018-06-06
Mining crushing production line normally includes multi-stage crushing, and the size of rock from big to small also needs a series of crushing process, in most cases, it is the result of the combination of a variety of crushing equipment. Just as cone crusher and impact crusher, they are the common used crushers in secondary crushing stage. What's the difference between them?
1. Working principle
Cone crusher is a kind of crushing equipment with continuous laminating crushing principle. During working process, materials will be squeezed by the concave ring and mantle, and the crushed materials are discharged when the movable cone far from the concave ring. Because there is only 5% force point in the crushing process, there is a large amount of through put of the the cone crusher.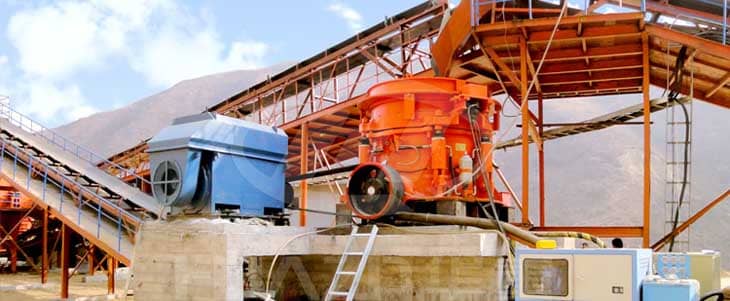 Impact crusher is kind of crushing equipment with impacting energy. It can crush the materials by striking of plate hammer and impacting of impact plate, so the structure is simpler than that of cone crusher.

2. Application field
Cone crusher is widely used for the medium crushing of hard rocks, such as unweathered granite, basalt, gabbro, andesite, limestone and iron ore with high silica content, as so on.
Impact crusher has the advantages in the crushing of soft rocks such as limestone, dolomite, marble, weathering rock, argillaceous rock and tuff.
3. Environmental protection
Cone crusher has smaller noise and less dust than impact crusher under the full loading condition. Due to impacting crushing, there will be more dust of impact crusher. Of course, to achieve an environmentally friendly gravel production line, both need to be equipped with dust removing equipment.
Luoyang Dahua has a strong technical team to provide the professional service from design to training. Our products receive high praise from the customer at home and abroad. Welcome old and new customer contact us: lydhchina@huazn.com