The Five Types of Limestone Crushers
author:dahua2 time:2021-10-28
For processing limestone, jaw crushers, impact crushers, hammer crushers, sand making machines, mobile crushers, etc. are commonly used in the market. Different types of crushers machines have different structures and operating principles, and have different crushing capabilities.
Jaw crusher: It is often used to crush large limestone. It can crush 1.2 meters of large stones into crushed stones of only a few hundred millimeters, so as to lay them for subsequent smooth processing and production. Its production capacity is 150-400 tons/hour. In addition to crushing limestone, it can also process cobblestone, granite, basalt, calcite, metal ore and other stones. It is widely used in crushing, sand making, grinding, and mineral processing industries.
Impact crusher: It is often aimed at crushing medium-hard stones, which can crush several hundred millimeters of crushed limestones into more than ten or twenty millimeters of stones, which are used for engineering construction. The hourly production capacity is between 150-300 tons. Its striking working principle produces beautiful sand and stone grains with many edges and few pieces, which is very suitable for high-standard engineering construction.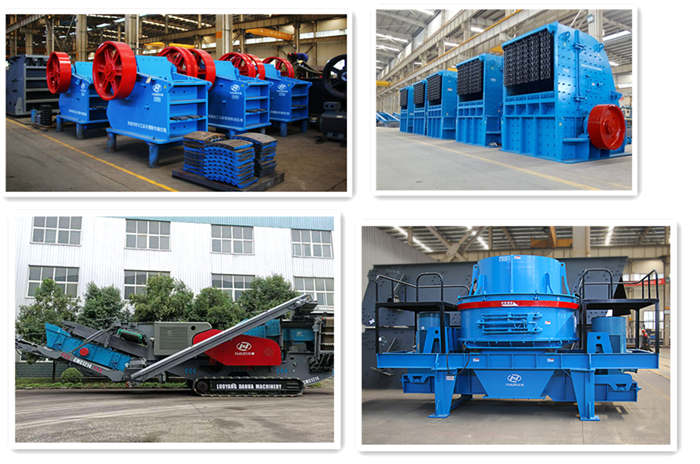 Hammer crusher: It is a crushing equipment that integrates coarse crushing and intermediate crushing processes. It can realize one-time molding, low investment cost, simple process, and large output. Its hourly production capacity is between 350-500 tons, not only It can be used in crushing production lines and sand making production lines, and can also be used in beneficiation production lines. It can also replace cone crushers for processing operations.
Sand making machine: It is indispensable in the sand production line. It can make coarse sand, medium sand, fine sand, etc. At present, the more active models in the market include VSI sand making machine and mobile sand making machine, which can process soft and medium hard And the harder stone, the production capacity is about 60 to 120 tons per hour, and it can be used to produce high-quality construction sand when combined with the sand washing machine.
Mobile crusher: It can climb slopes, can be moved at any time, and can enter the processing site; it can be operated by a single machine, and can be combined with multiple machines. It can be equipped with different models according to production requirements, and can be used for roads, railways, water supply, power supply and other projects. Operational processing is a processing equipment that integrates feeding, crushing, screening, transportation and other functions. Its hourly production capacity is about 90 to 500 tons.