The Three Types of Rock Crushers
author:dahua2 time:2021-11-01
The rocks are mined in the mine include granite, basalt, limestone, dolomite, etc. The processing of stones generally requires two crushing processes, namely coarse crushing and medium and fine crushing. The coarse crushing equipment is jaw crusher, and the medium and fine crushing equipment is cone crusher or impact crusher. The crusher also needs auxiliary equipment such as vibrating feeders, vibrating screens and belt conveyors. If it is processed into sand, it needs to be equipped with sand making machine. Next, three types of rock crushing equipment will be introduced.
1. Jaw crusher (coarse crushing equipment)
It is mainly used for coarse crushing stones. It takes both hard and soft. The crushing ratio is large, the crushing efficiency is high, the output size is uniform, the structure is simple and it is easy to operate, and the high wear-resistant material is more durable.
2. Cone crusher and impact crusher (medium and fine crushing equipment)
Cone crusher is a popular equipment designed for crushing medium and high hardness materials such as granite and basalt. The finished stone has good grain shape, less needle flake content, and has advanced functions such as cavity cleaning, iron-passing protection, and automatic lubrication. A variety of cavity types such as single cylinder, multi-cylinder, full hydraulic, etc. are available.
The impact crusher is suitable for crushing limestone, dolomite, coal gangue, construction waste and other medium and low hardness objects. The stone particle shape is a cube, the powder content is less, and the quality is better. The high chromium hammer is resistant to wear and use long life.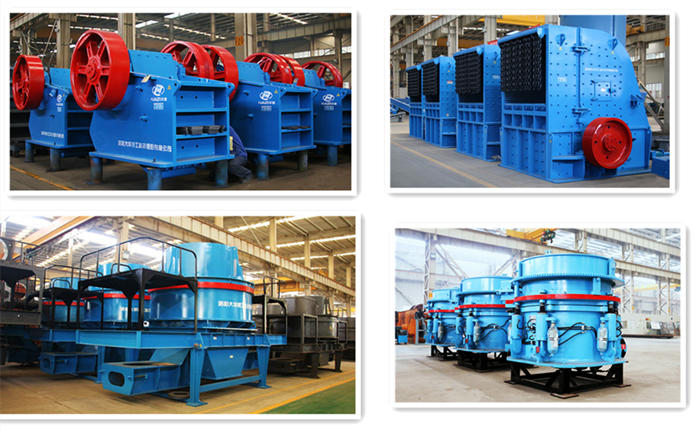 3. VSI sand making machine
It is mainly used in construction, highways, railways, concrete and other industries, it is usually combined with jaw crushers, impact crushers, sand washing machines, vibrating screens, conveyors and other equipment to form a complete sand production line.