What Equipment is Better for Crushing Basalt?
author:dahua2 time:2021-12-15
Basalt is a basic volcanic rock and also a kind of sedimentary rock. Basalt has the characteristics of high hardness, high temperature resistance, strong compressive ability, and resistance to corrosion in sand and gravel aggregates. Therefore, it has become the main stone used in construction roads, railways, airport runways and other fields, and it is also a good aggregate for high-rise building lightweight concrete. Material, has high economic value in the market.
From the physical properties of basalt, it is hard rock and has good compressive performance. If the equipment for crushing basalt is not selected properly, it will cause serious wear and tear on the equipment. Therefore, when crushing basalt, it is necessary to choose suitable equipment. So what equipment is better for crushing basalt?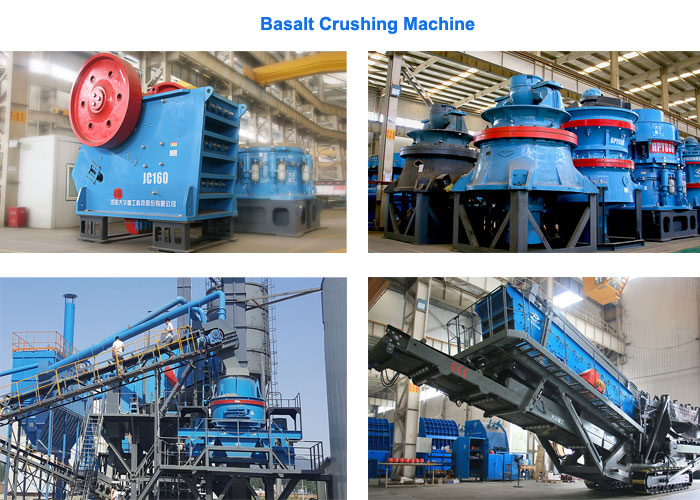 1. Coarse crushing-jaw crusher
Jaw crusher is a common multifunctional crushing equipment, which can be used to crush high-hardness basalt, marble, river pebble, etc.
2. Medium and fine crushing-single-cylinder/multi-cylinder hydraulic cone crusher
Cone crusher is a kind of crushing equipment that specializes in crushing and processing hard stone. The processed material has high hardness index, so cone crusher is better choice for crushing basalt, Through layered crushing, basalt can be crushed to medium and fine grains.
3. Sand making machine-vertical shaft impact crusher
The vertical shaft impact crusher can use the principle of "stone for stone" or "stone for iron" to reshape the material (basalt) to make its particle shape more rounded, which has a better effect in the sand and gravel industry. The sand formation rate is high, and the finished particle shape is good.
4. Combinatable and transferable mobile crusher
There are two types of mobile crushers: tire crushers and crawler crushers. They can walk and promote transition. They are easy to be transported directly between different working sites without spending a lot of manpower and material resources. They can process basalt with different host equipment according to different requirements, reducing production costs with transportation equipment.