What are the Types of Crushing Chamber of Jaw Crusher?
author:dahua time:2019-11-20
For jaw crusher, there are two types of crushing chamber: curve and linear. The two different types of crushing chamber, for the coarse crushing, have different crushing efficiency. But for both crushing chamber, they rely on the motion of movable jaw. The movable jaw swings up and down to complete the coordination work with the fixed jaw. In this process, the material is crushed by repeated squeezing action.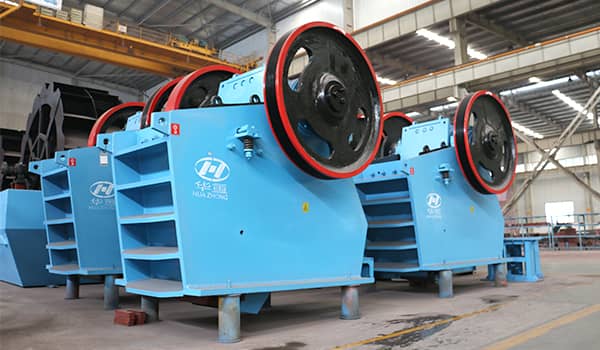 Generally speaking, linear crushing chamber is one of the more common crushing cavities. When the jaw crusher is working, the surface of the cavity wall will appear in the shape of a trapezoidal section. This section keeps decreasing in the working process of the machine, which drives the swing of the movable jaw to increase constantly in the working process. Such change will affect the speed of material discharge after crushing. If the speed of material discharge is slowed down due to movable jaw, it will cause the phenomenon of clogging the discharge opening. This phenomenon will lead to the increase of bearing capacity of movable jaw and also cause the wear of lining plate.
The curve and linear crushing chamber of jaw crusher are of two opposite principles, its design is modified on the principle of linear crushing cavity, because linear crushing chamber is easy to block the discharging opening, and curved shape crushing chamber using the incremental status, increase the contact space of the crushing surface between movable jaw and fixed jaw, to a certain extent, can avoid the phenomenon of material plugging.
This paper mainly introduces the types of crushing chamber of jaw crusher. Luoyang Dahua not only provides jaw crusher, but also provides other types of crusher machine, like cone crusher, impact crusher, mobile crusher and mill machine, sand washer as well as the whole production line solution. If you want to get more information and the new quotation, please contact us: lydhchina@huazn.com.