Granite Crushing Production Line| Granite Crusher
author:dahua time:2019-07-22
Granite has uniform structure, hard texture, high hardness and wear resistance, so when designing granite crushing production line, it is necessary to select suitable crusher equipment according to the characteristics of materials. How to design granite crushing production line? What kind of granite crusher should we choose?
Granite production line
Firstly, granite is fed evenly to the jaw crusher through vibrating feeder for primary crushing, and then the crushed products are transported to impact crusher or cone crusher for secondary crushing. The fine crushed stones are fed into vibrating screen to classify into different specifications of stones, and the stones do not meet the requirements of particle size back into the impact crusher or cone crusher for crushing again. The production line flow is as follows. What are the advantages and disadvantages of these two production line?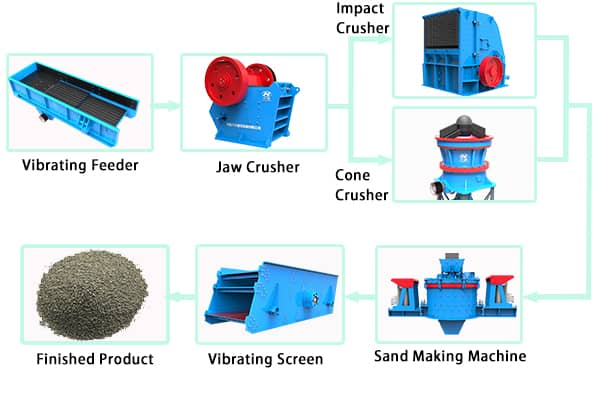 1. vibrating feeder + jaw crusher + impact crusher + vibrating screen
Advantage: Low investment. Impact crusher is used for secondary crushing, the investment of impact crusher is cheaper than cone crusher.
Disadvantage: Impact crusher uses impact force to treat materials, which is suitable for the crushing of soft materials. However, granite is hard material, it will cause serious abrasion for the liner plate and impacting plate. This may quicken the replacement of the wearing parts and increase maintenance costs.
2. vibrating feeder + jaw crusher + cone crusher + vibrating screen
Advantage: Cone crusher adopts lamination crushing principle, in addition to the crushing of materials by mantle, the materials crush each other through mutual squeezing. The crushing ration is high, the finished products are good, the crushing effect is better than that of impact crusher.
Disadvantages: High investment cost in the early stage.
To sum up, cone crusher is more suitable for crushing granite. Although the investment of the whole production line is too high at the early period, cone crusher uses laminating crushing principle to obtain good grain shape, reduce the replacement of wearing parts, and lower the maintenance costs. Under the condition of sufficient funds, second production line is recommended.
Granite crusher
Jaw crusher: C series jaw crusher is a new generation of European jaw crusher developed by Luoyang Dahua with the introduction of French technology. The tooth front of the jaw plate in the crushing cavity (movable jaw plate and fixed jaw plate) is more conducive to crushing hard materials. Unique cavity type, jaw plate can be used interchangeably for four times, it greatly improves material utilization rate, compared with similar models, the handling capacity is enhanced by 15%, energy saving is 10%.
Cone crusher: GPY series cone crusher is a high energy single cylinder hydraulic cone crusher optimized design based on the combination of European advanced technologies. Special crushing cavity type, reasonable eccentricity, swing frequency and laminating crushing principle bring higher yield, larger crushing ratio and better grain shape. Small single-cylinder cone crusher has higher productivity compared with the same type of machine, and the frame adopts thickening treatment, which increases 20% to 30%, which is not easy to crack and prolongs the service life of the equipment.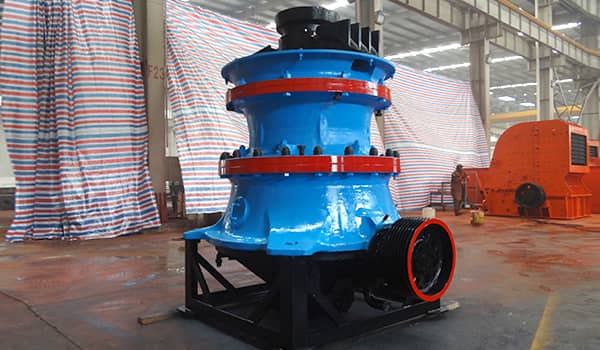 Above is the solutions put forward by Luoyang Dahua. Luoyang Dahua is a high-tech enterprise integrated with design, development and fabricating. The hot products are jaw crusher, impact crusher and cone crusher. If you want to know more crusher equipments, please contact the online service or send email to lydhchina@huazn.com