River Pebbles Sand Making Plant
Cobblestone is also river pebble. The pebbles sand making process is divided into four stages: coarse crushing, medium fine crushing, sand making and sieving
♦ The first stage: coarse crushing
The pebbles blasted from the mountain is fed uniformly by the vibrating feeder through the silo and transported to the jaw crusher for coarse crushing.
♦ The second stage: medium broken
The coarsely crushed materials are screened by vibrating screen and then conveyed by belt conveyor to cone crusher for medium crushing. The crushed stones are conveyed to the vibrating screen through a belt conveyor to sieve out different specifications of stones. The stones that meet the requirements of the customer's particle size are conveyed to the finished product pile through the belt conveyor. The cone crusher crushes again, forming a closed circuit cycle.
♦ The third stage: sand making
The crushed material is larger than the size of the two-layer screen, and the stone is conveyed to the sand maker machine through the belt conveyor for fine crushing and shaping.
♦
The fourth stage: screening
The finely crushed and reshaped materials are screened by circular vibrating screen for coarse sand, medium sand and fine sand.
Note:
For the sand powder with strict requirements, a sand washing machine can be added behind the fine sand. The waste water discharged from the sand washing machine can be recovered by the fine sand recycling device. On the one hand, it can reduce environmental pollution, and on the other hand, it can increase sand production.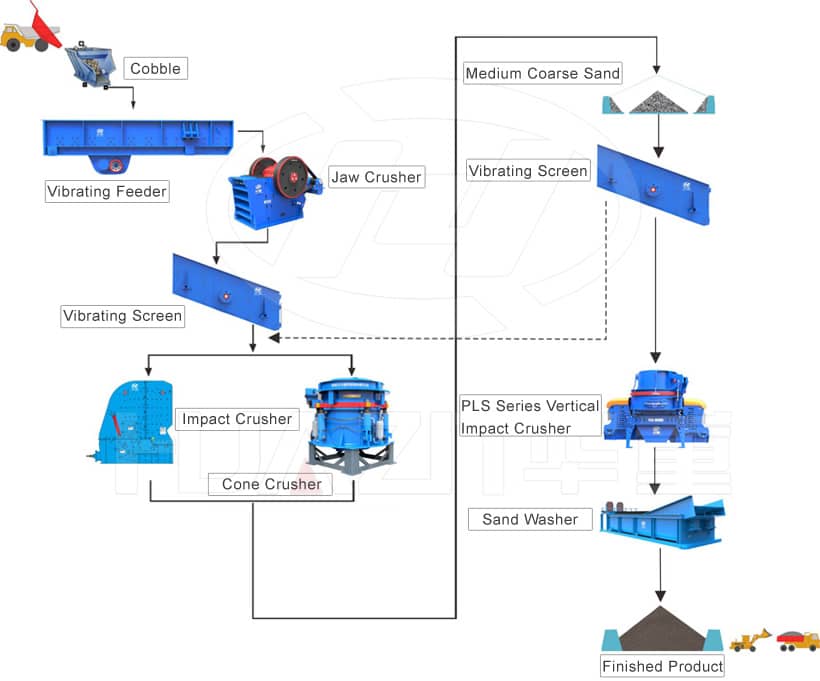 Project Cases
Guangxi Cobble Sand Production Line
Material Processed: Cobble
Output: 800t/d
Equipment Configuration: Vertical Shaft Impact Crusher, Jaw Crusher, Impact Crusher, Sand Washer
Customer Evaluations: By on site research and comparison with other equipment suppliers, Dahua's equipment could meet our demands on performance and production capacity. Dahua's product is quite advance among this industry. The engineer from Dahua gave us the detail configuration information based on feasibility and money saving. We are quite satisfied about the output and the shape granularity of the final product.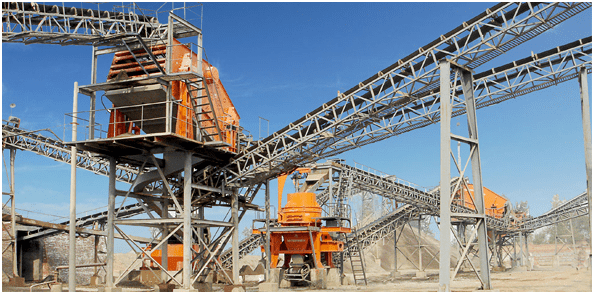 Guangdong Cobble Production Line
Material Processed: Cobble
Output: 800t/d
Equipment Configuration: Jaw Crusher, Vertical Impact Crusher, Sand Washer
Customer Evaluations: Dahua's production line has feasible configuration and compact structure. They provide us the best solution based on our working sites and economy situation. The production line was installed by their engineers, who provide us instructions and personal training as well. The product's output and shape meet our requirements. No machine break down of this production line, hence, we are quite satisfied with this production line.